The 4 Best Valentine's Day Sneakers
Valentine's Day is around the corner, and your significant other is definitely waiting for a cute surprise. Time to cop your loved one a pair of new valentine's-themed sneakers! If you've already bought your chocolates and roses, we'll at least help you choose the perfect shoe for the date. And if you're really brave, might as well get two pairs and rock the partner-look on your special date.
In recent years, Nike and Adidas have provided us with many thematic sneakers that'll be ideal for your February 14, some of which are explicitly made for Valentine's Day and others just fit the date perfectly. Without further ado, the 5 best sneakers to wear for V-day 2022!
5. Adidas ZX8000 Sean Wotherspoon Superearth
Maybe not the first sneaker that comes to mind when thinking of Valentine's Day, but actually a perfect fit. Flowers are expensive, so might as well just get a sneaker with flowers on them. Plus, with vegan shoes, your waiter will immediately know that you're going for the veggie option, so no need to explain your food preferences – time saved to spend with your loved one. Show them that you think they're super, and that they mean the earth to you with Sean Wotherspoon's Superearth take on the ZX8000. It's a classic, and so will you be when rocking these sneakers on February 14th.
If you were early enough to secure a table at one of the better restaurants in town, you're gonna need an elegant pair of kicks to match the occasion too. What better way to combine luxury with sneakers than the ultra-noble A Ma Maniére Jordan 3? Dressed in high-quality leather and suede with intricate details and lavish colours, the sneaker perfectly matches the mahogany interior of your chosen fine dining establishment.
When it comes to dessert, you can add icing to the cake with a hidden message on the back of the heel-tab reading "All We Have is Each Other".
Cheesy? So is your charcuterie, so who cares?
This one is an easy choice. The cleanest and most minimalistic V-Day sneaker Nike has ever released. Playing with small red details on the tongue, heeltab, and insole, the only sign of love you'll find here is the embroidered heart on the lateral heel. Apart from that, it's a beautiful White/Sail Air Force 1 that you'll easily be able to rock when Valentine's Day has passed – so a good investment. Whether it's your love for sneakers or for the person you're celebrating with, the Air Force 1 Valentine's Day from 2021 is perfect for the occasion.
Love at first sight. The Strangelove is one of the best SB Dunk Low's to ever release, full-stop. Even better, it's a Valentine's Day Special from 2020, and the sneaker was arguably the main driver for the Dunk's current success. Designed by Sean Cliver, the sneaker features love-symbols all over, including soft velvet upper materials, red and pink hues all over, and a heart on the heel. However, unlike the Air Force 1, it's an actual heart his time… with a skull head – 'til death do us part? It's an absolute grail, every sneakerhead is in love with this sneaker, and your date will be too, promise!
Nothing beats a minimal sneaker with hidden intricate details, waiting to be found one at a time. Nike released this special "Love Letter" Air Force 1 back in 2021 to commemorate Valentine's Day, and they smashed it with this design. We don't want to give away all surprises, but even removing the wrapping paper in the box will get your heart pumping. Make sure to keep an eye out for the toe-box perforations, and if you're really curious, take a look underneath the tongue strap. It's ideal if you don't feel comfortable writing a love letter yourself.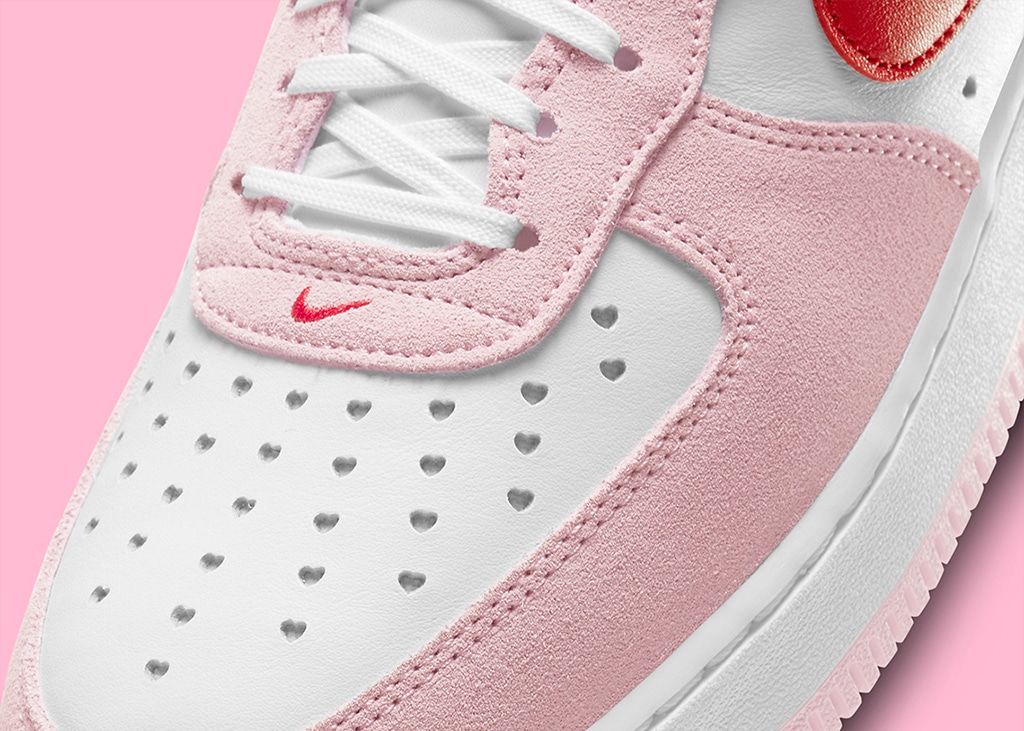 Love can be full of surprises, so make sure to cop the ultimate surprise-love sneaker for this years' February 14th. The "Love Letter" Air Force 1 is a clean, pastel beauty with surprises that will melt your heart.
What are you planning to rock for V-day this year? Let us know in the comments below.
by Freddy Schwoerer of Drip Drops
---
← Older Post Newer Post →
---