Aesthetic Autumn, Fire Fall! The top 4 sneakers for this Autumn.
• Freddy Schwoerer
It's already mid-September, the year flew past like a breeze. Since life is slowly getting back to normal, people finally have the chance to see, and be seen, again. Time to finally slide into the kicks you have been keeping deadstock throughout lockdown – there was no point getting your crispy Jordans dirty to walk your dog. This autumn, we will certainly see a crazy array of all hyped sneakers that have released in the last year, lingering in their boxes, waiting to finally see the light of day.
Now, the question arises – which box to open first? Summer is nearly over, so low-tops won't remain for all too long. In fact, Christmas Decoration is already hitting the shelves, but don't let them fool you, we still have a few months until the cold winter hits, so the furry winter boots should also stay where they are.
This makes it difficult – picking autumns sneakers is always a challenge… the fine balance between breathable light, and warm sturdy footwear. If you – like many – are struggling, we have the solution for you:
The Top 4 Sneakers for this autumn:
Starting off strong with arguably one of the best releases of 2021. Clearly inspired by the Off-White Air Jordan 4 – which has become one of the most hyped OW sneakers – the Jordan 4 Shimmer follows suit with earthy neutral tones. This women's exclusive celebrates inclusivity and comfort in one's own skin.
Luxurious suede and leather panels on the upper create a lavish finish that is beyond clean, accented by semi-translucent cage elements and a white midsole to create a popping contrast. The silver Jumpman logo on the tongue symbolizes a mirror – quintessential for becoming comfortable in your own skin. An honorable gesture, resulting in a flawless finish.
Buy the Jordan 4 Shimmer here.
Talk about a perfect Autumn sneaker. This shoe was undoubtedly designed with falling leaves as a main theme, completely dyed in rusty, earthy, natural tones. Dark Coral Red and Pink Suede create a stunning base, with Black nubuck overlay for a nod to the upcoming dark days. As a stunning finish, the swoosh receives a distressed texture, which contrasts the remaining upper to really stand out from the crowd.
A beautiful blend of autumn foliage forms one of the most Fall-appropriate Jordan 1 colorways, ready to fall in love with this fall.
The New Balance 550 is one of the classic success stories of 2021. The revival of the sneaker by New York based brand Aimé Leon Dore revolutionized New Balance's position in the sneaker world, pushing hype and brand awareness beyond limits. After striking, yet unobtainable collabs, New Balance finally decided to release the silhouette to the general public, and we could not be happier.
Aimé Leon Dore New Balance 550
The New Balance 550 blends in with the current trend of modernizing vintage sneakers, combining new technology with old, iconic designs to create a comfortable sneaker with heritage. An upper of breathable white and green leather & synthetic elements, combined with suede mudguards rest atop a New Balance rubber outsole that provides traction, durability and cushioning for a sturdy experience.
The New Balance 550 is well on the way to becoming one of the relevant shoes in the sneaker world. The "White/Green" colorway is ideal for autumn, complementing the earthy foliage with a natural green vintage look.
Oddly enough, Nike and Jordan Brand's spring line-up was more autumn-ready than anything else. Half a year after the reveal of their pre-summer roll-out, sneakerheads can finally indulge in the earthy, brown hues. Specifically one of these sneakers stood out from the rest, thanks to hype around the silhouette, possible similarities with a Travis Scott sneaker, and of course the autumn-inspired colour blocking.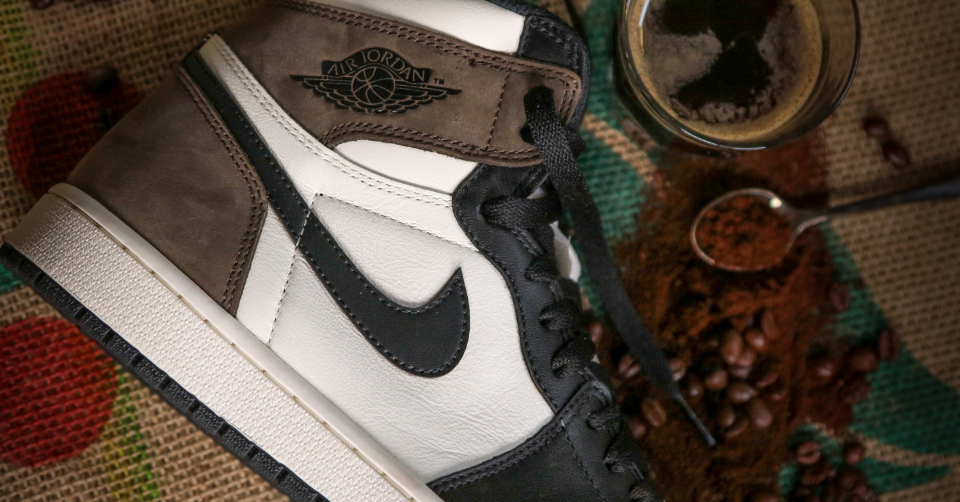 The Air Jordan 1 Mocha combines luscious white leather upper with contrasting black leather paneling and the titular Mocha nubuck on the heel and ankle collar. The shoe symbolizes hype, luxury, earth and autumn, incorporating contemporary fashion trends with innovation. Undoubtedly the ideal shoe for this season.
Autumn is coming, so get ready! Can't go wrong with the above silhouettes. Buy them now on Drip Drops!
Do you agree? Any sneaker we may have missed? Let us know in the comments below.
by Freddy Schwoerer of Drip Drops
---
---
← Older Post Newer Post →
---