The Best Air Max Day Releases Of All Time!
• Nicola Vermeersch
Since the establishment of Air Max Day in 2014, sneaker enthusiasts have commemorated the occasion not only by dusting off their cherished Air Max styles from their shoe collections but also by taking part in Nike's highly-anticipated launches that are organized around and during March 26.
And today is the day! A thrilling occasion with the possibility of scoring some major wins for you. This month, there have been some excellent Airmax releases, including the iconic Airmax 1 "Big Bubble," the Airmax 1 "Shima Shima," and the Airmax 1 "Lebron James Liverpool FC." In addition to these fantastic releases, we have compiled a list of the top Airmax Day releases from previous years.
You are going to see a lot of Airmax 1's, but that is with a good reason. Designed by the renowned Tinker Hatfield, the Air Max 1 was a groundbreaking shoe as it was the first to feature a visible Air unit on the midsole. This innovation revolutionized the cushioning setup and became one of Nike's most significant advancements, with new Air Max shoes being developed even decades later.
10. Nike Air Max 1 '86 'Big Bubble'
Yo, check it out! Nike's gone and done it again - they're bringing back the classic "University Red" colorway of the Air Max 1 for the 2023 Air Max Day! But wait, there's more! This ain't just any old re-release - it's got a modified design that's super similar to the original drop back in '86. You might remember that the first run of these bad boys had a big bubble in the midsole, but it had to be shrunk down after Nike found out it could crack in cold temps. Well, guess what? The new release is bringing back that iconic "Big Bubble" detail, so you can get your hands on a piece of sneaker history! The shoe's shape has been updated though - it's got a slanted upper towards the forefoot, a slightly shorter mudguard, and an elevated heel counter to fit that bigger Air bubble. So get ready to step up your sneaker game with this fresh throwback!
9. Nike Air Max 1 'Anniversary'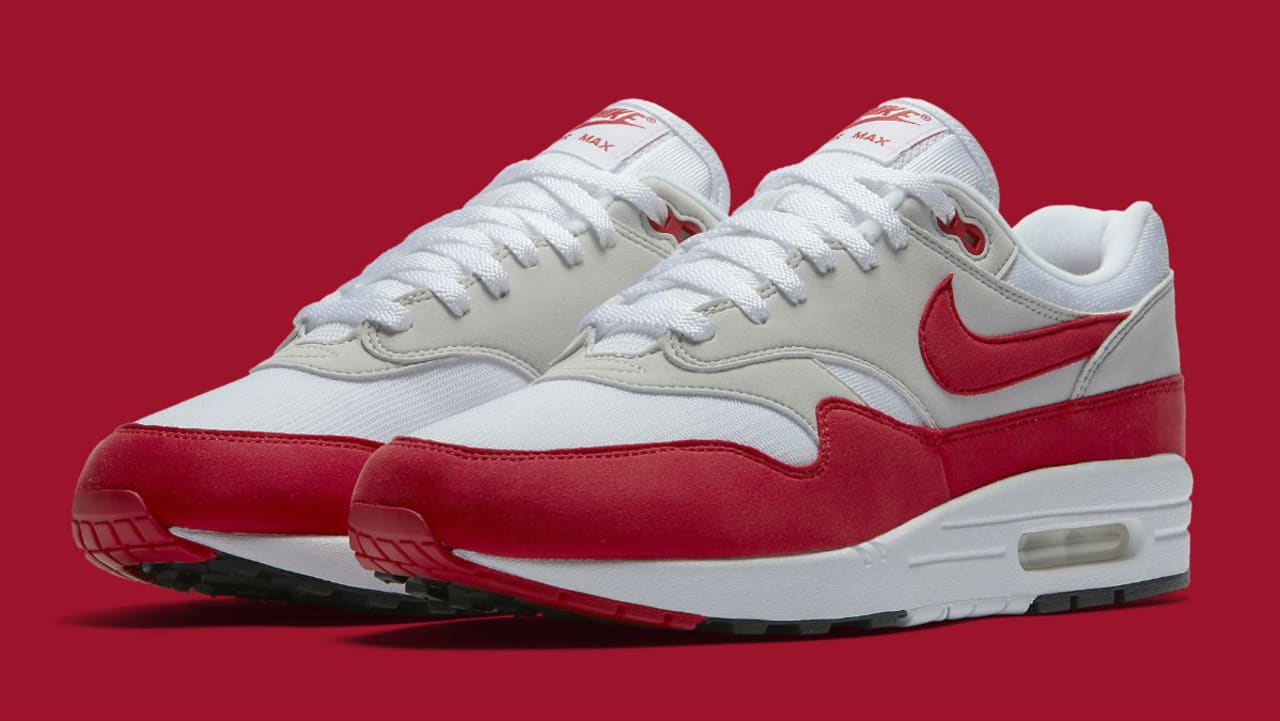 We've reached number 9 on this list, and it's a doozy! In 2017, Nike went all out to commemorate the 30th anniversary of the Air Max 1's debut by releasing the "Anniversary" Air Max 1. Sure, the "University Red" Air Max 1 had made a comeback before, but this time was different. Nike wanted to recreate the OG 1987 release down to the tiniest detail. The upper got a full-on makeover, with new overlay panels, a rounder toe box, and flashy shoelaces. Plus, to make die-hard Air Max fans go wild, Nike threw in some retro accessories to really take us back to the good ol' days. Now that's what I call a throwback!
8. Nike Air Max 1 'Master'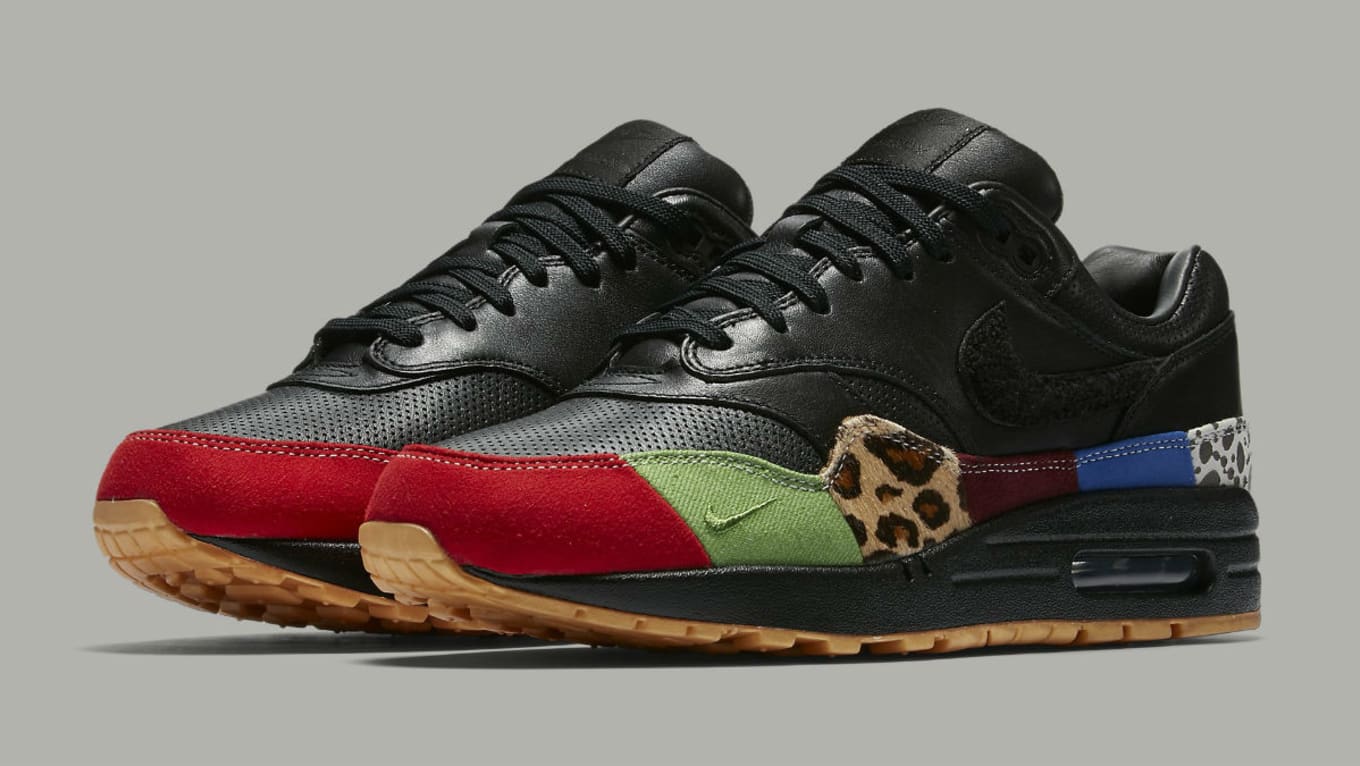 Listen up sneakerheads, have you heard about the 2017 release of the Nike Air Max 1 "Master" colorway? It's a mash-up of all the coolest elements from previous collaborations with Patta, Kidrobot, Parra, Atmos, and some fresh new designs. The result is a patchwork of vibrant colors and textures that creates an eye-catching visual feast for your feet!
But wait, there's more! Nike went above and beyond by creating a special "friends-and-family" version of the "Master" sneaker, featuring a clean white base. Imagine the envy of your sneakerhead friends if you were one of the lucky few to own a pair of these rare gems. It's not just about being stylish, it's about owning a piece of sneaker history and showing off your exclusive taste. So, get ready to turn heads and step up your sneaker game with the Nike Air Max 1 "Master" collection.
7. Nike VaporMax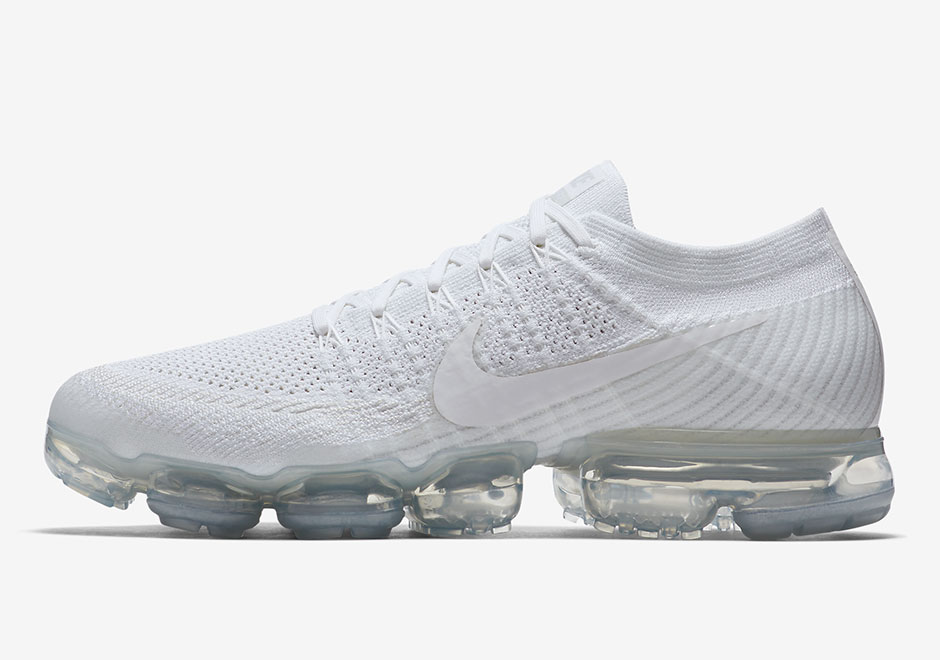 Imagine yourself transported back to the year 2017, the air was buzzing with excitement as sneakerheads eagerly awaited the big Air Max Day drop from Nike. And what did they come up with? A revolutionary new design that was a complete game-changer in the world of Air Max. The VaporMax, with its sleek Flyknit upper and stand-alone, full-length Air unit, was unlike anything we'd seen before. It was a shoe that defied expectations and left us all in awe of Nike's innovative approach to sneaker design. And while the hype may have died down a bit since its release, the VaporMax remains a staple in the sneaker world, beloved by Air Max enthusiasts everywhere. It paved the way for the new generation of Air Max designs, proving that Nike is always pushing the boundaries and challenging the status quo.
6. Nike Air Max 90 'Bacon'
Back in the day, Nike enlisted artist Dave Ortiz from Dave's Quality Meat sneaker boutique in 2004 to team up for a special release. After months of struggling to find his muse, Ortiz finally found his source of inspiration while craving a bacon, egg, and cheese sandwich one morning. Lo and behold, the Air Max 90 "Bacon" was born! In an ode to the delicious breakfast staple, the sneaker features hues of uncooked meat and comes with mouth-watering packaging. Originally released in limited quantities, the "Bacon" resurfaced in 2021 as part of Nike's Air Max Day festivities, much to the delight of sneakerheads worldwide.
5. Nike Airmax 1 'Shima Shima'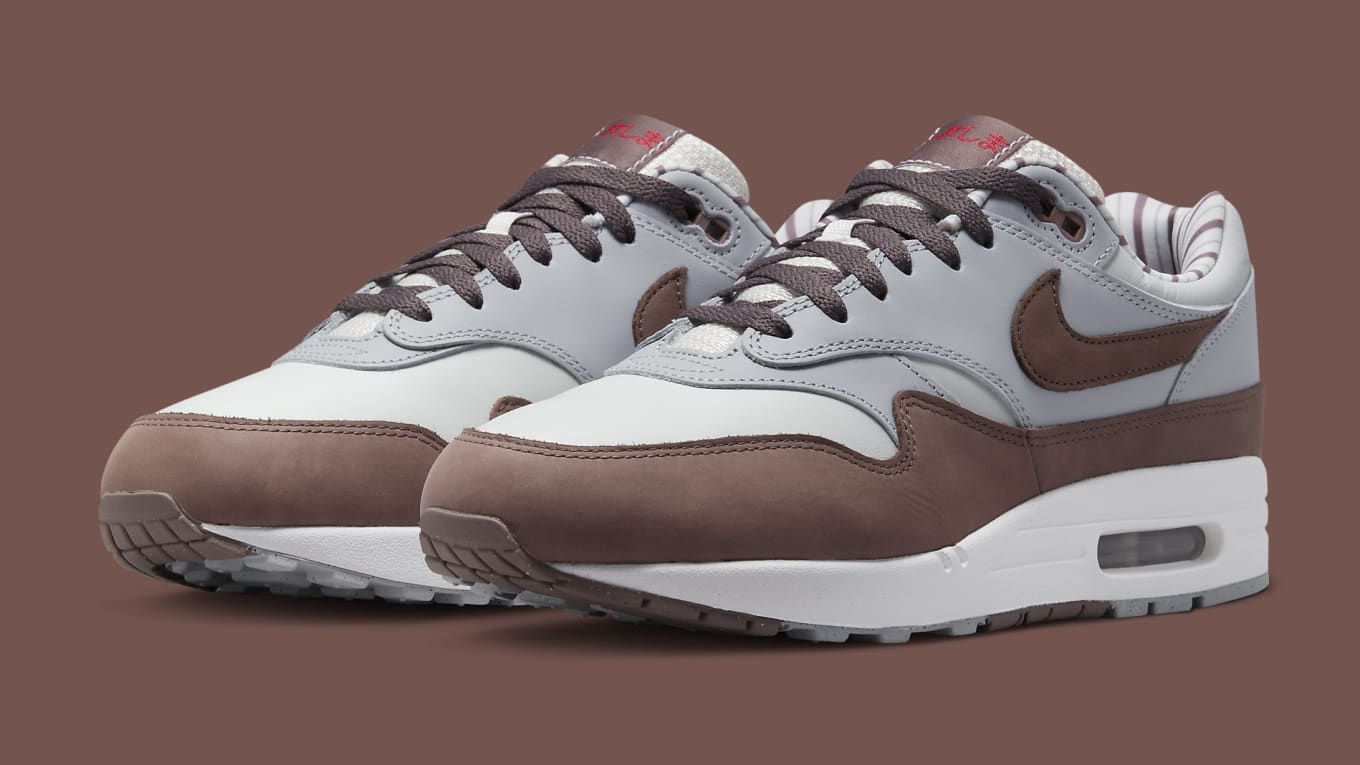 Hey, guess what's back? The Nike Air Max 1 Premium 'Shima Shima' edition for 2023, and it's bringing some serious throwback vibes from the 'Shima Shima' pack of 2003. They're giving the leather upper a chic combination of different shades of grey, with some popping brown hits on the iconic Swoosh and the nubuck mudguard. And wait, there's more! The inside is rockin' some vertical stripes all over the textile lining, and the woven tongue tag and sockliner even have some sweet Japanese Hiragana characters spelling out 'Shima Shima'. And don't worry about the comfort level, the midsole's got you covered with a cushiony wedge-shaped foam and a visible Air-sole unit in the heel. It's like walking on fluffy clouds, but with style!
4. Clot x Nike Air Max 1 'K.O.D.'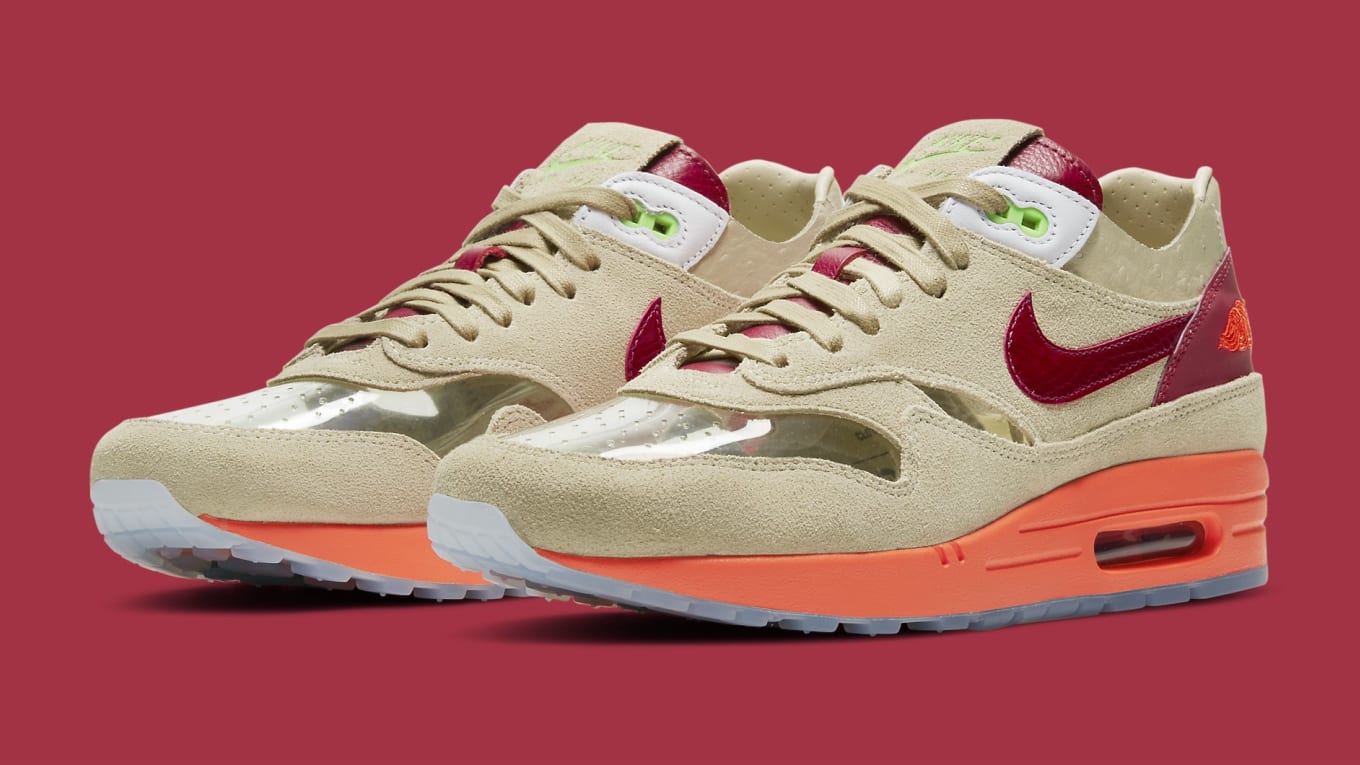 In 2006, Nike teamed up with Hong Kong-based streetwear brand Clot for their first-ever collaboration, which resulted in one of the most iconic Air Max releases of all time: the "Kiss of Death" Air Max 1. This sneaker was unlike anything seen before, drawing inspiration from the idea of chi, a spiritual energy that flows through the human body and connects with the universe.
The "Kiss of Death" Air Max 1 featured a clear toe box, no-liner ankle collar, and a reflexology graphic on the clear outsole, all of which made for a unique and innovative design. It quickly became a must-have for sneakerheads and Clot fans alike, and its influence can still be seen in many contemporary sneaker releases.
Fast forward to 2021, and Nike and Clot decided to celebrate the 15th anniversary of this iconic collaboration by releasing a new version of the "Kiss of Death" Air Max 1. While the latest retro retains the distinctive design elements of the original, it also features some minor updates to differentiate it from its predecessor. Regardless, this new release is sure to excite sneaker enthusiasts who missed out on the original run, and remind us all of the groundbreaking collaboration between Nike and Clot.
3. Atmos x Nike Air Max 1 'Beast 2.0'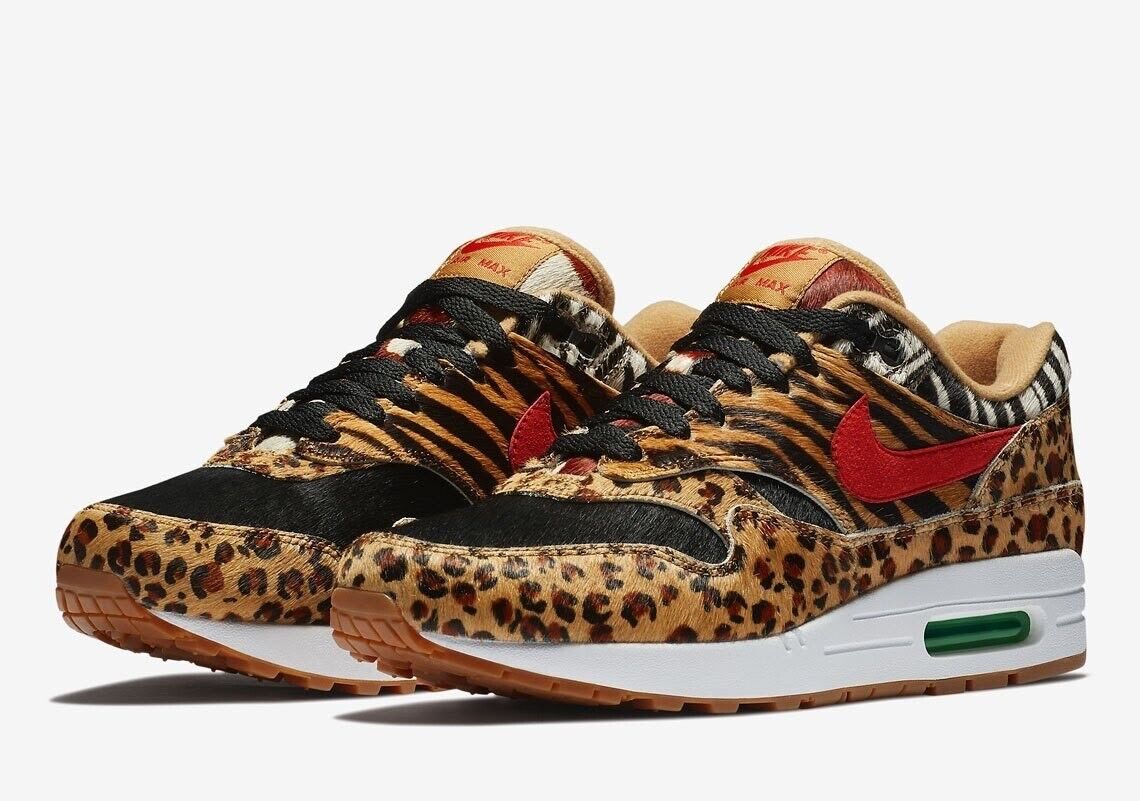 In 2006, the Air Max game was already going strong with the debut of Clot's first-ever Air Max collaboration. But wait, there's more! That same year, Nike also teamed up with Atmos to create their own version of the iconic shoe, affectionately known as the "Animal Pack," which now commands a hefty resale price of around $2,000. Fast forward to 2018's Air Max Day, and Atmos and Nike joined forces once again to release a 2.0 version of the wildly popular collab. The updated version features all the exotic animal-inspired details that made the original so unforgettable, including faux tiger, leopard, zebra, and pony panels. However, this time around, the creative minds at Atmos switched things up by using ivory in key areas instead of black, creating a unique and eye-catching look that's sure to turn heads. With its bold design and impressive legacy, it's no wonder the Atmos x Nike Air Max 1 "Animal Pack" has become a must-have for sneakerheads around the world.
2. Atmos x Nike Air Max 1 'Elephant'
The Atmos x Nike Air Max 1 "Elephant" is often hailed as one of the most iconic Air Max collaborations of all time. First released in 2007, the sneaker's design was inspired by the Air Jordan 3, which is Atmos designer Hirofumi Kojima's all-time favorite Air Jordan model. The sneaker's elephant print mudguard and collar, paired with bold teal accents on the Swoosh logos, make for a standout colorway that's hard to ignore.
Fast forward to 2016, Nike launched its "Vote Back" program for Air Max Day, allowing fans to vote for their favorite Air Max styles to be re-released. It was no surprise that the "Elephant" Atmos x Air Max 1 was the winner, given its massive popularity and iconic design.
With its retro release, fans were able to relive the glory days of the Atmos x Nike collaboration and get their hands on a pair of sneakers that were previously thought to be unobtainable. Even today, the "Elephant" Air Max 1 continues to be a fan-favorite and a must-have for any serious sneaker collector.
1. Sean Wotherspoon x Nike Air Max 1/97
Alright, let's talk about one of the most iconic Air Max Day sneakers ever: the Sean Wotherspoon x Nike Air Max 1/97. Back in 2017, Nike came up with a brilliant idea called "Vote Forward" - they asked 12 artists and designers to put their spin on existing Air Max models. And boy, did Sean Wotherspoon deliver! His creation was a mash-up of two classic Air Max silhouettes: the Air Max 97 and the Air Max 1. The result? A funky fresh sneaker that made everyone do a double-take.
The upper was covered in colorful pastel corduroy, giving it a vintage feel that was right up Wotherspoon's alley. And get this - the more you wore them, the better they looked! The corduroy material would fray over time, creating a one-of-a-kind look for each pair. It's like the sneaker was meant to be worn and loved.
Of course, the collab was an instant hit. Wotherspoon dropped a limited number of pairs at ComplexCon in 2017, and people went crazy for them. And when they officially released on Air Max Day in 2018, they sold out in a flash. But here's the kicker - they immediately started fetching high prices on the secondary market, solidifying their status as a must-have for any sneaker fan. Sean Wotherspoon had officially joined the ranks of the most notable sneaker collaborators in the game.
---
---
← Older Post Newer Post →
---