Hands-on Review – Travis Scott x fragment design x Jordan 1 Low
• Freddy Schwoerer
Fragments of Two Icons
If you have some affiliation with the sneaker world – which I presume you have, given you are reading this blog – you are probably familiar with the influence that US-superstar Travis Scott has on the entire shoe-metaverse. Literally any sneaker with his logo on it is an instant grail to most sneakerheads, selling out within seconds, reselling for absolutely insane values.
While from an objective perspective, some of Travis' collaborations with Nike were less aesthetically pleasing, fans always find a way to combine the sneakers with outfits that will even make an Air Max 270 look good.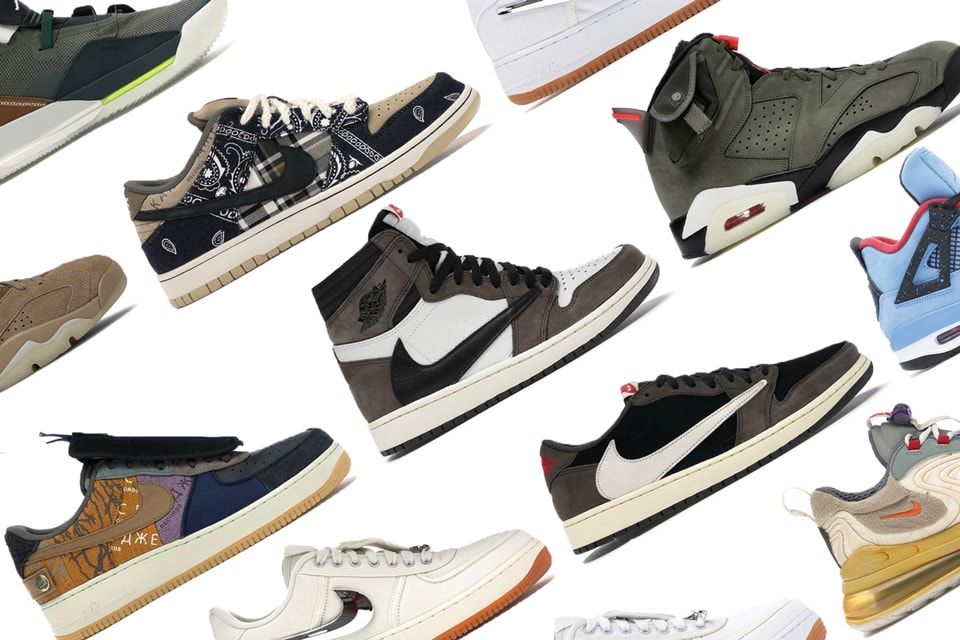 Nike x Travis Scott Collection
What psychologists refer to as the "mere-exposure effect" – a growing preference through repeated exposure – is Travis Scott's recipe to fame and success through shoes. After a while, you just get used to the look and end up actually liking it.
Travis x fragment design
However, by no means are all of Travis Scott's sneakers unaesthetic. The SB Dunks are a work of art, the OG Air Force 1's are stunning, and his take on the Jordan 4 has shown that he has at least some eye for beauty. And then there is the collaboration with Japanese luxury brand fragment design.
In early 2021, rumors of a tripartite collab between Jordan Brand, fragment design and Scott surfaced on social media, with fans in denial until provided evidence. However, what was speculative turned out to influence the sneaker world more than anyone could have expected. The ultimate grail, the perfect Jordan 1, two icons combined, history made.
Travis Scott x fragment design Air Jordan 1 High
The release eventually produced two sneakers, the virtually unobtainable Air Jordan 1 High, and the more obtainable and honestly better-looking younger brother – the Air Jordan 1 Low. The latter remained under the radar for a while, overshadowed by the High version, but has finally reached its deserved spot in qualifying as the sneaker of the year.
And it is available to purchase at Drip Drops.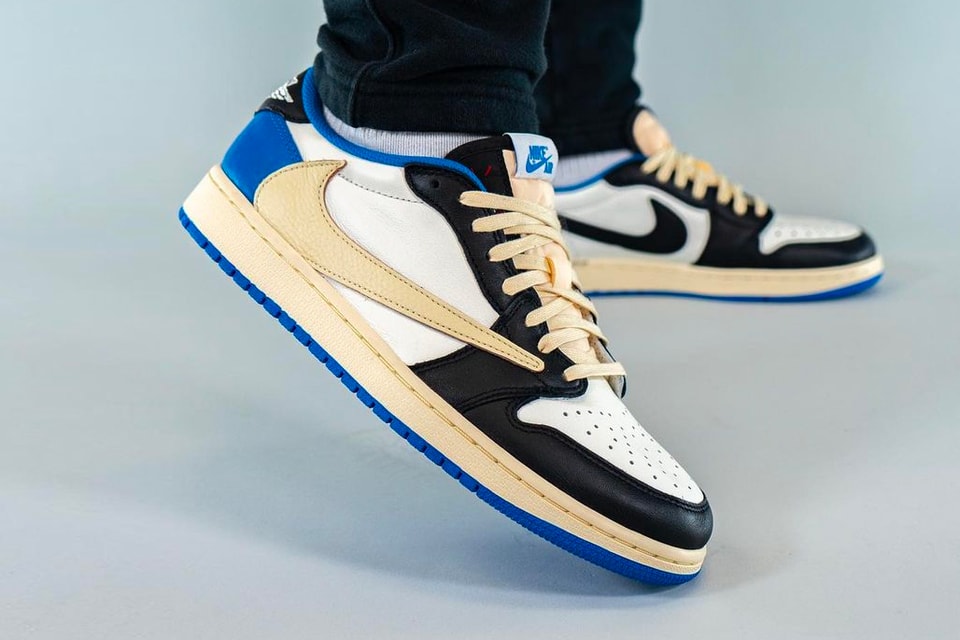 Travis Scott x fragment design Air Jordan 1 Low
Hands-on Review:
Aesthetics
The reason for the Low's late, but deserved rise to the top stems mostly from the toebox and mudguard. Initial images of the High on Travis' feet featured a black mudguard around a white toebox, similar to the fragment design x Jordan 1 High (2016). However, to many fans' dismay, the High version ultimately switched up the black patent leather with white tumbled leather, removing the contrasting elements that sneakerheads love so dearly.
Oddly enough, the low version kept this feature, and a direct comparison really demonstrates its superiority.
Black patent leather sits atop a white leather base, resulting in an extremely luxurious and flagrant look, accented by Royal Blue elements on the heel, outsole, and sock lining. To add a deluxe vintage touch, the sail laces, midsole and reversed-swoosh are dressed in a gorgeous off-white to resemble an aged, yellowed look.
To symbolize the two parties involved in this shoe's creation, the heels feature embossed and mismatched logos of fragment design and Cactus Jack respectively.
Further, small text on the lateral midsole reads "Travis-Hiroshi", paying homage to Hiroshi Fujiwara – head of fragment design – and Travis Scott, making sure you never forget who designed the beauty on your feet.
Quality: 
Fans only hoped that the quality of this sneaker would at least somewhat resemble that of the fragment Air Jordan 1 (2016), possibly the best Jordan 1 in terms of quality of all time.
Indeed, fans were rewarded: the fragment design x Travis Scott Air Jordan 1 Low features some of the most high-end and premium-quality leather, with obvious focus on quality and durability in the finish. Stitching is flawless (which is unfortunately rare for Nike sneakers), there are no signs of excess glue or fabric anywhere – the sneaker is honestly sublime in terms of quality.
Comfort:
Look, it's a Jordan 1 Low. And you're not buying this sneaker to have a comfortable shoe to wear to work or gym (at least I hope not). It is not a New Balance 990, it cannot compare with Asics Gel, it is nowhere near a Foam RNNR. But Nike Air soles do provide the comfort you need.
After all, the sneaker was originally designed for Basketball, so you are certainly not walking on a stone-hard sole. In fact, many prefer a sturdier midsole, especially for longer wear, so this might actually be an advantage for some, depending on the use.
The upper nicely encapsulates your foot, with the high quality leather providing decent breathability and snugness. It is certainly not the most comfortable sneaker in the world, but unless you are taking it for a hike, it does its job of keeping your feet cozy and safe extremely well.
Conclusion:
Many sneakers see extreme hype waves, but few sneakers objectively deserve it, and achieve to remain on the wave after months. This sneaker is one of them. The combination of Royal Blue, Black and White completed with an aged look cannot be hated upon, and with the influence of two of the biggest names in the sneaker industry right now, you are guaranteed to buy a shoe that will remain in the history books for years to come.
Do you prefer the Low or the High? Let us know in the comments below.
BUY THE TRAVIS SCOTT X FRAGMENT DESIGN AIR JORDAN 1 LOW HERE
by Freddy Schwoerer of Drip Drops
---
---
← Older Post Newer Post →
---