In a While, Crocodile: Our 5 Favourite Crocs Collaborations
• Freddy Schwoerer
Crocs are back in the game!
What used to be an innovative take on shoes turned into a frowned-upon gardening shoe. Crocs reinvented the footwear standards back in 2002, introducing the Crocs classic clog, a foam sandal with high breathability, insane lightweight, but frankly not the prettiest design. However, after gaining popularity amongst adolescents and kids, the sneaker soon developed into a ridicule for its aesthetics, and lost a gigantic share in the market.
Nevertheless, with the pandemic forcing many people to work from home and spend a considerably longer time indoors, clogs in general regained immense popularity. The Yeezy Slide became the most hyped adidas piece, high-end brands shifted towards indoor sandals, and even Birkenstocks started having resell value again.
Crocs saw this opportunity for a re-entry into the fashion industry. Collaborating with famous celebrities and endorsers, their new editions of the classic clog have put them right back into the center of comfort-footwear, where they found the potential to flourish within the fashion industry.
Crocs x Bad Bunny
Among the likes of Bad Bunny, Post Malone, and even Justin Bieber, the brand has recruited high-profile collaborators, reaching beyond streetwear enthusiasts to the general public.
Resultingly, Crocs are back in the game, and it's more than deserved to rank their five best collaborations of the last months.
5. MCM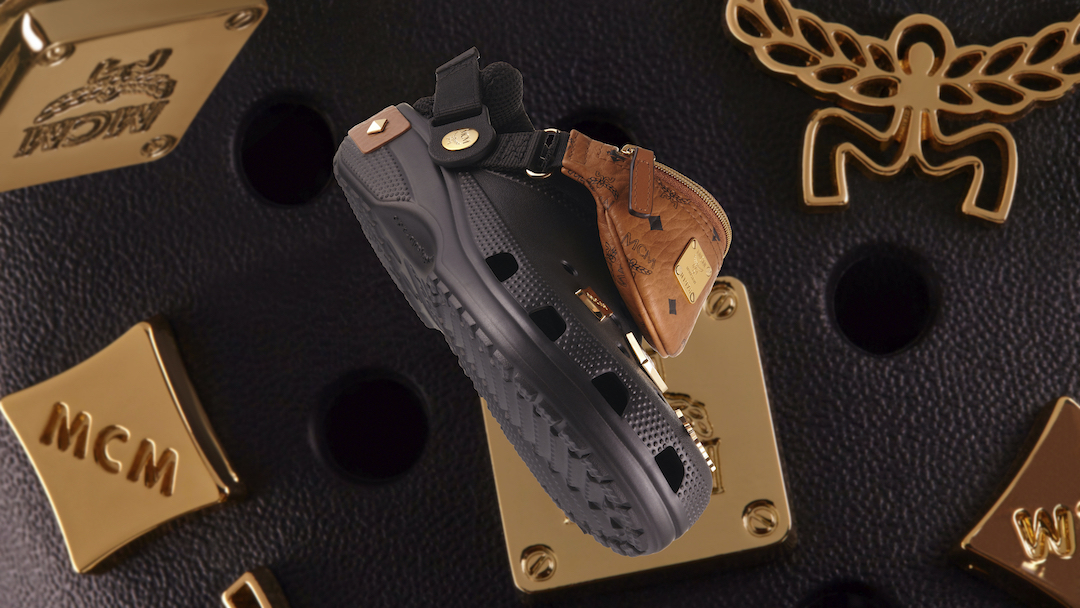 Crocs and Balenciaga deserve a blog for themselves, their extensive collab has arguably made the biggest impact for the US-based brand. However, the Italian fashion house is not the only luxury label that Crocs has worked with. The brand recently unveiled their collaboration with Munich-based luxury label MCM, turning the foam clog into a high-end piece of footwear.
Releasing in a set of two colourways, the German label has added gold-plated jibbitz to uniquely decorate the sandal, as well as the signature MCM monogram leather pouch onto the tongue area. The final result is a high-end all-terrain shoe that extends beyond utility into the sphere of luxury. A reinforced heel-strap and improved cushioning enhance the overall quality and comfort, while a bulkier sole provides cushioning and traction to get you from the mountains to the red carpet.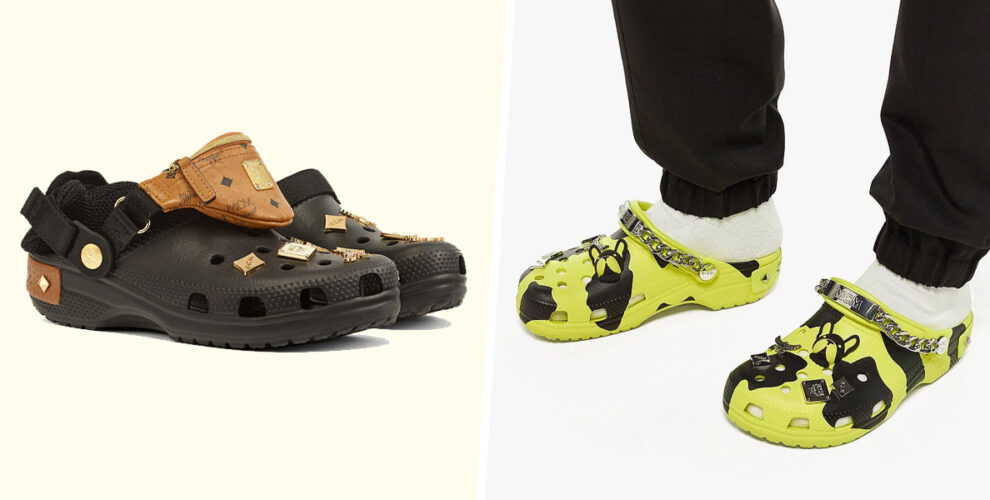 It's a completely different luxury-take as compared to Balenci, but one that fits much better into the high-end fashion scene. While MCM has lost popularity over the recent years, their collab with Crocs is a statement of their shift from traditional, more conservative designs to a new era of luxury fashion.
4. Salehe Bembury
Probably the most talked-about Crocs of the year, the Salehe Bembury collab launched the US-based brand into new atmoshperes. Initially working for the likes of Yeezy x Gap and being head design of footwear at Versace, the American designer has now enlarged his portfolio of sneaker collaborations. After his takes on the New Balance 2002R and 574, he teamed up with Crocs to release a series of fingerprint-inspired clogs.
The result is an entirely reworked classic clog, with a contoured upper that looks like it can unlock a smartphone. This biometric inspiration results in a modern and innovative design, instantly recognizable and eye-catching.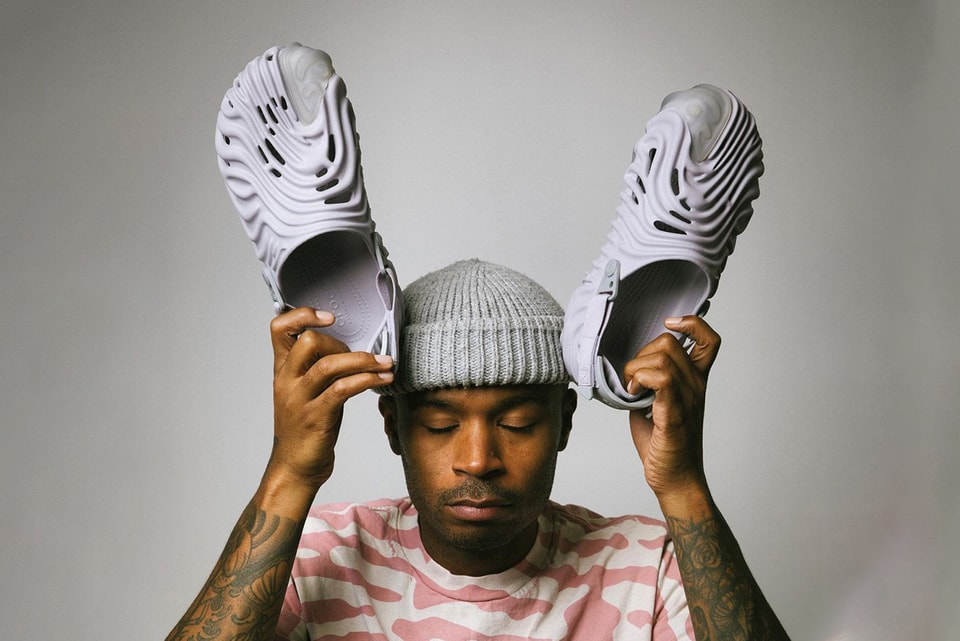 While Crocs-aesthetics overall can certainly be debated, Salehe's final product is actually a good-looking sandal, available in a multitude of well-chosen tones. The entire internet is talking about it, and with quite a few editions releasing in the past months, you probably won't have to pay the hefty price tag that these Crocs went for initially. It's insanely comfortable, the quality is top-notch, and Salehe's legacy is yet to develop into an unforgettable mark in the shoe-industry.
3. Nicole McLaughlin
Perhaps the most interesting and versatile Croc I have ever seen. Artist Nicole McLaughling – known on social media for her creative takes to combine everyday accessories into wearables – received her first official sneaker collab with the US-based brand. Deploying her artistic imagination, the New York-based artist turned the Croc into a satirical camping-ready outdoor clog.
Upcycling old camping material, the classic clog features a working flashlight on the tongue strap, a rope bundle on the tongue, a Travis Scott-like pouch, and even a compass to help you navigate through mountains or fashion shows. Further, a waterproof ankle collar keeps your legs dry, which seems kind of redundant given the Crocs' fairly water-permeable design (as in, your feet are gonna be wet).
It's delighting to see Crocs recruiting upcoming artists and designers, moving away from just gaining hype through celebrity endorsements without much signature touches. Nicole McLaughlin has stirred up the internet with her bread-bra's, tennis-ball gloves, and even French-fry-slides.
Statements supporting reusing old materials and upcycling unused objects are always welcome in the progressive movement of the fashion world, and her unique design approach will hopefully soon earn her the recognition she deserves. The Crocs-collab is the first step, and will remain in Crocs' history books forever.
2. Palace
Palace's take on Crocs was fairly controversial at first. Known for UK-inspired skate-apparel and streetwear designs, the London-based brand has recently collaborated with outsider brands, such as Mercedes AMG, Harrod's London, Calvin Klein, and most notably Ralph Lauren. In 2021, the brand released two camouflage Crocs, putting their signature on the famous foam clog.
Releasing in a beige "Desert Camo" and a military-green "Jungle Camo", the Croc doesn't scream Palace at first glance. It's an aesthetic design on the clog, with hidden "Palace" text blended into the camouflage pattern. Apart from the exclusive custom Palace Jibbitz, the only other signature from the skate brand is the Crocs logo replaced by the signature Palace Triferg on the strap-button, but the small details matter.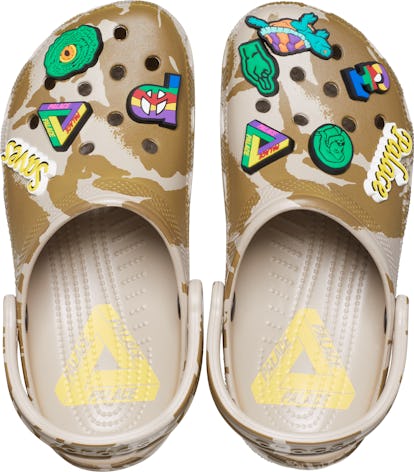 Palace is known for keeping things understated, without much ado about monograms and labeling. Instead, the design team focuses on aesthetic pleasure, with controversial touches and humorous details. This approach is well established on the Palace Crocs, turning it into an "if you know, you know" piece for collectors and fans of the brand. Unexpectedly, resell of this Croc has skyrocketed in recent months, and won't stop there. Crocs is making waves which will soon turn into tsunamis, so be ready for a big surf.
1. BEAMS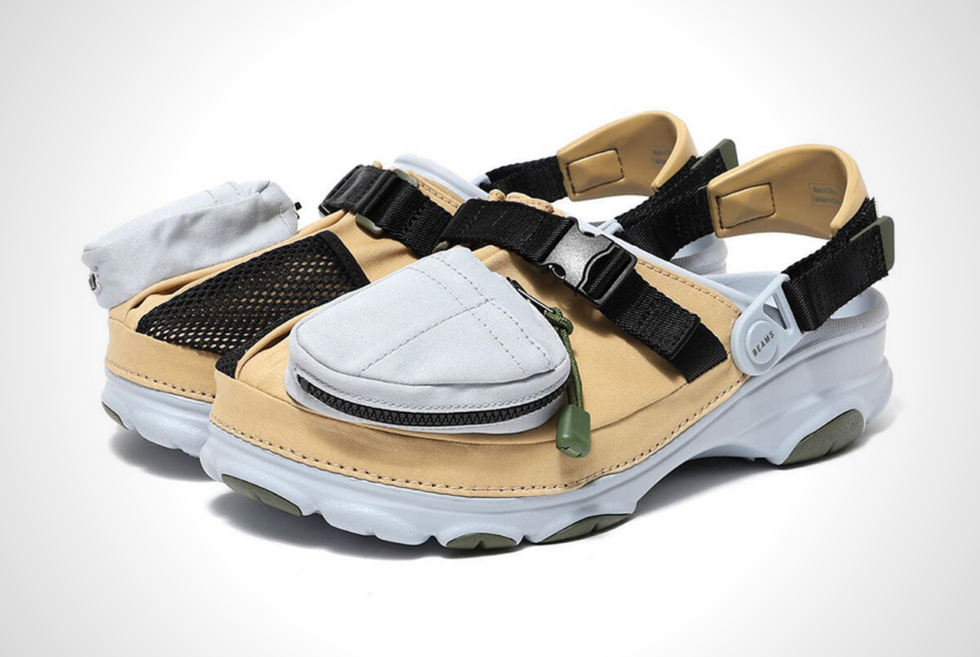 We've covered the most interesting and statement-rich collabs, but there is one pair left, which deserves way more recognition and hype than it currently has. The BEAMS x Crocs Classic Clog is actually an objectively aesthetic shoe. Taking a military approach, with similar design features as Nicole McLaughlin's version, the BEAMS Croc features technical hardware and outdoor-ready elements with functionality.
The upper is covered in a fishing-inspired mesh, hiding the "ugly" holes and converting the clog into an actual enclosed shoe, which serves as a base for the military pouch. The latter's versatility allows you to even attach the pouch to the strap when going into 4x4 Sports Mode, which is pretty nifty.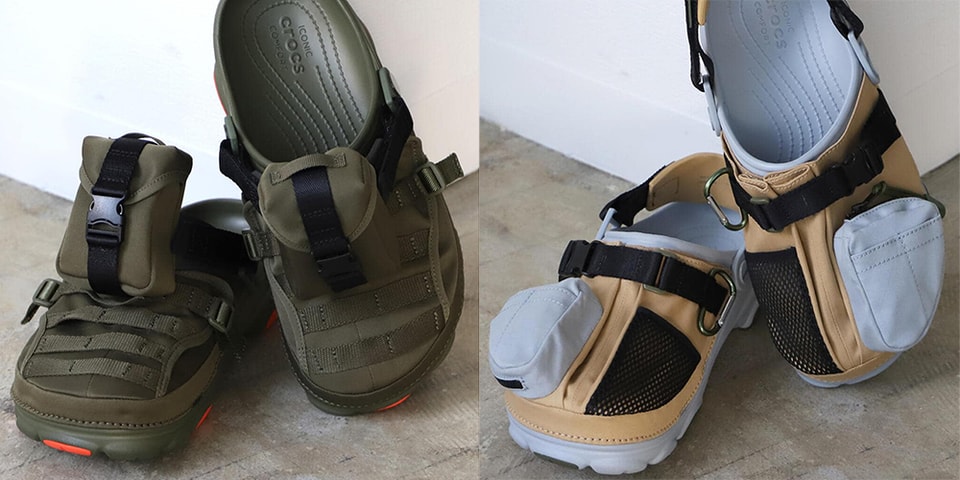 Apart from all the gimmicks and accessories, we should talk about the overall design and colour choice though. The baby blue seamlessly complements the beige, resulting in an actually good-looking overall product. It goes well with cargo's, with summer shorts, even suit pants would complement this look. The BEAMS Crocs are more than mere technical and accessory-rich clogs, they are an actual sneaker which is wearable without being frowned at by older generations (talking to you, mom).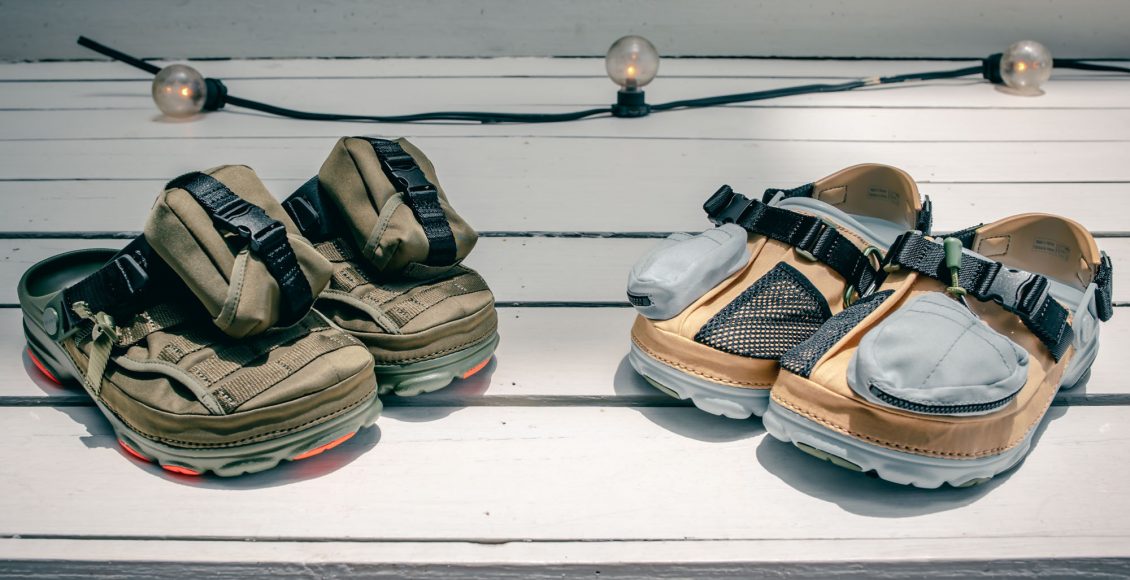 The BEAMS Crocs collab never received the expected hype, but once Crocs have fully established themselves in the innovative fashion world, normal humans will get used to them, which will make this collab stand out even more thanks to its "normal" design. Expect these Crocs to grow in demand over the next years, especially the Blue/Beige version.
Crocs are back, and better than ever before. Establishing themselves in all realms of the sneaker industry, they are overarchingly taking over footwear, using every opportunity to prove their shoes' versatility and functionality.
Do you own/wear any Crocs for fashion purposes? Any Crocs collab you missed in the list? Let us know in the comments below.
By Freddy Schwoerer of Drip Drops
---
---
← Older Post Newer Post →
---