Slide through September: The best Mules for Cozy Weather
• Freddy Schwoerer
Competition is tough...
It's September and we're still waiting for summer weather to arrive. For now, the days are mostly rainy and cold. Perfect weather to stay indoors, drink hot chocolate, watch Netflix and keep your feet cozy in… but in what?
As a sneakerhead, this choice needs to fulfil some very specific criteria. Comfort comes first, of course, but whatever is on your foot should be aesthetically pleasing, high quality and durability, and most importantly make you smile when looking at them.
Difficult decision, but to narrow down your choice-set a little, here is a list of the Top 5 Cozy & Flex Footwear of the season!
5. Nike Offline 2.0
When the Offline 1.0 arrived in summer last year, people were initially expecting it to compete with the oh-so-hyped Yeezy Slide. However, high retail of 110€ and a rather off design (pun intended) drove enthusiasts towards the direct competitor, which retailed for half the price and just provided more…fun.
Nike Offline 1.0 (2020)
The Offline 1.0 and 2.0 are directly designed for indoor use, maximizing comfort and coziness. The 2.0 Sandal features a cork-like midsole combined with a micro-bead insole which provides cushioning beyond imaginable, and the mesh upper pads your feet top-down.
Incredible comfort, insane cushioning, but the design just failed to justify the price. Still, if you're into the design, and have a few pennies (or more) to spend, the Offline 2.0 is ideal for home.
You've definitely seen this one, otherwise you might be on the wrong site. The Yeezy Foam RNNR is revolutionizing footwear as we speak, with Kanye's approach to create comfort-centered designs that reflect minimalism and earth-inspired themes.
The Foam RNNR is great for home-use: constructed from one type of material (EVA and algae blend), the mule creates a web of cushioning around your foot, blurring the line between sole and upper completely. Comfortable, durable, aesthetic (subjective, but I like it), and beyond hyped.
Only problem – price. While the shoe retailed at 80€, you probably won't find a pair for under 200€ on second-hand markets. But I would be lying if I said it's not worth it.
Read the Hands-On Review of the Yeezy Foam RNNR HERE, or buy it directly on Drip Drops.
3. Salehe Bembury x Crocs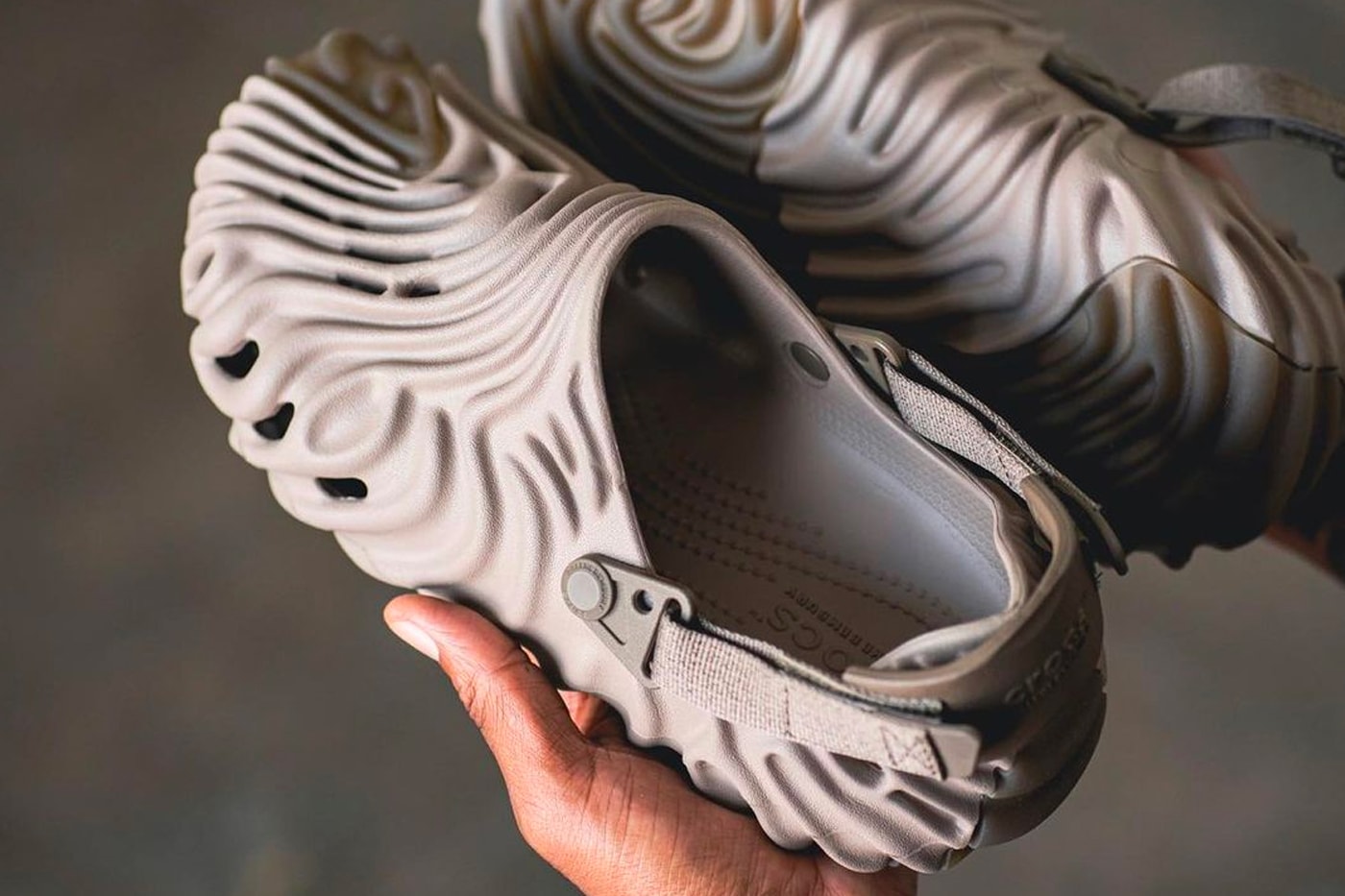 Crocs have honestly been through a rollercoaster of brand image. From being a popular "everything-shoe", it became a meme, it saw endless ridicule, it kind of disappeared. Then, Balenciaga resurrected it, again as a meme, but successfully brought the company back on track – at least in the fashion world.
Soon after, the likes of Post Malone, Bad Bunny, Justin Bieber, and Nicole McLaughlin all joined in on collaborations with arguably the ugliest piece of footwear ever created. But then again, objective ugliness doesn't exist in fashion anymore, so who cares?
Instead of just changing the colourway of the upper or adding crazy camping equipment (cough cough… Nicole McLaughlin), ex-Versace Designer Salehe Bembury took on the Crocs challenge and redesigned the entire sneaker.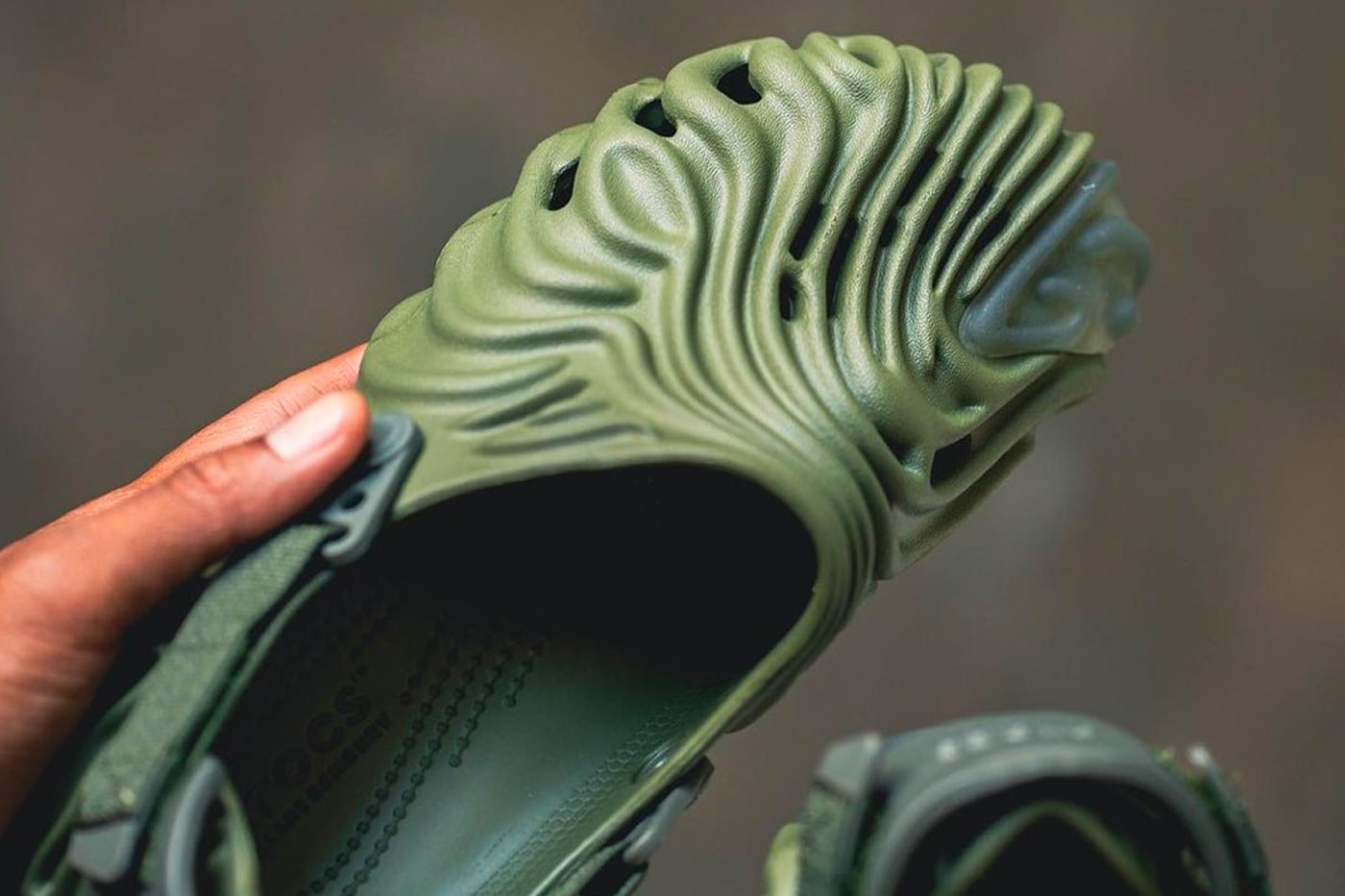 While clearly influenced by the Foam RNNR, these Crocs are truly special in their own way. While the Foam RNNR creates a 2-D web around the foot, these Crocs form contoured fingerprint-like structures, elevating the shoe to another level. Those that have had the chance to wear the unreleased collab have reported next-level comfort and wearability levels, as well as a crystal-clear focus on high quality.
With a redesign like that, from a person with the status of Bembury, you can expect this Croc to fly off shelves once it finally releases. We are patiently waiting for December – the announced release-date. 
2. Fear of God California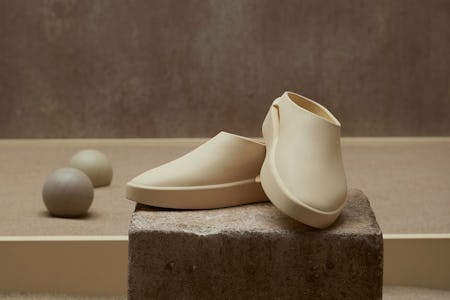 Designer Jerry Lorenzo surprised the fashion world when announcing his move from Nike to direct competitor adidas. However, nearly a year after the announcement, we have not seen any releases from the partnership yet, truly hoping that the wait pays off.
However, in the meanwhile, Lorenzo released some footwear updates to his own label – Fear of God. Part of the collection: arguably the most minimalistic mule to ever release, the California Slip-On. Similar to the Yeezy Slide and Foam RNNR, the shoe is constructed from a single type of material (closed-cell foam), labeled by the brand as "functionally emphasized". Further, an air vent inside keeps your feet breathing, making this the perfect shoe to prevent sweaty feet while still keeping your toes concealed.
Comfort wise, the California is incredible: custom "Extrabound" cushioning provides a lighter, more comfortable, and more durable shell, allowing for more flexibility and energy return when on-foot.
The sneaker resembles the classic Espadrille beach sandal, but suits your couch just as well as your beach-towel. This versatility makes it absolutely special and deservedly ranks this shoe second on this list.
Did you expect anything else? Does this satisfy your hype-cravings? Yes, the Yeezy Slide is the most hyped sandal (if not sneaker) of the year. And of last year. It came at the absolutely right moment, during a shift towards indoor-focused work and living.
But let's shift our focus away from the Kanye-hype. Why is the Yeezy Slide so special?
A suitable analogy would arguably be the smartphone size evolution. Over the last decade, phones have gotten larger and larger, more complex every release, huge screens, bulky camera set-ups… Phones are not "handheld devices" anymore, we literally need to shift our hand to pull down the notification bar.
Then, the iPhone 12 mini was introduced… taking the size back to the roots, it quickly became extremely popular, since users were tired of the constant size-increases, of phones lurking out of pockets. They wanted a simple, adequately-sized smartphone that does what it needs to do.
To complete the analogy… take a look at Virgil's "The Ten" deconstructed line-up. While absolutely stunning design-wise, it is the opposite of minimalistic. Then came the Balenciaga Triple S, even more the Track, the Reebok DMX, every sneaker just trying to top its predecessor in terms of complexity.
Well, similar to phones, fans grew tired. They wanted to regress to their roots, to simple; easy; and minimalistic designs. And the Yeezy Slide is the epitome of just that. Who cares about plastic hang-tags or three stacked soles? 
One piece of well-constructed EVA foam does the job, providing you with a comfortable, aesthetic, durable and hyped shoe that works just as well inside as it does on the streets. The Yeezy Slide is the frontrunner of Kanye West's vision to redefine footwear. And he is more than succeeding in this endeavor. The Slide deserves the top spot, there is no arguing.
Read our Hands-On Review of the Yeezy Slide HERE, or buy it directly from Drip Drops.
Any comfortable flex we missed, that you feel deserves a place on the list? Let us know below.
by Freddy Schwoerer of Drip Drops
---
---
← Older Post Newer Post →
---