Switch it up with Slides – How to wear your Yeezy Slides
• Freddy Schwoerer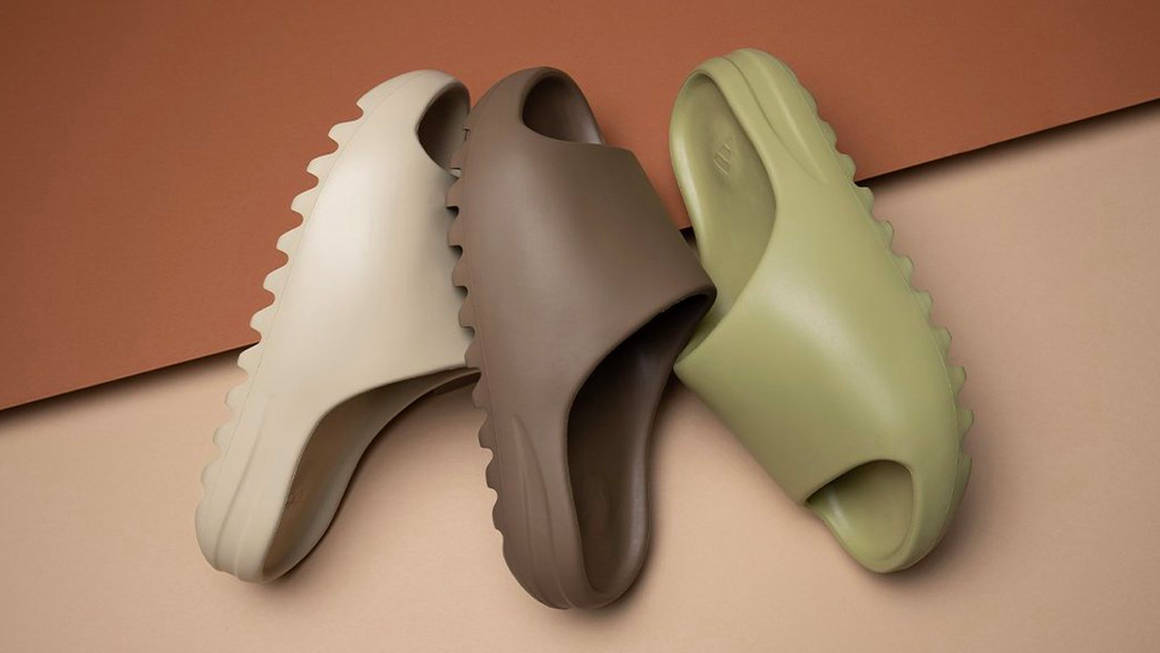 Finally able to ignore your uneducated friends' opinions about the Yeezy Slides?
Finally acknowledged the insane comfort and aesthetics that the sandal provides?
Finally convinced that this is the future of footwear?
Now you are stuck at home with a brand-new pair of the hottest Yeezy Slides. Brand-new, fresh out the box, you're jumping up and down from excitement. You just can't wait to rock them, to feel Kanye's vision on your feet. But wait…how? What do you wear with these slides?
Don't worry, we figured that such an extraordinary silhouette might be overwhelming to combine into a fire fit at first. To provide some inspiration, we have found some stunning fit-pics that really extract the best out of the Slide!
1. Do it Like the Man Himself!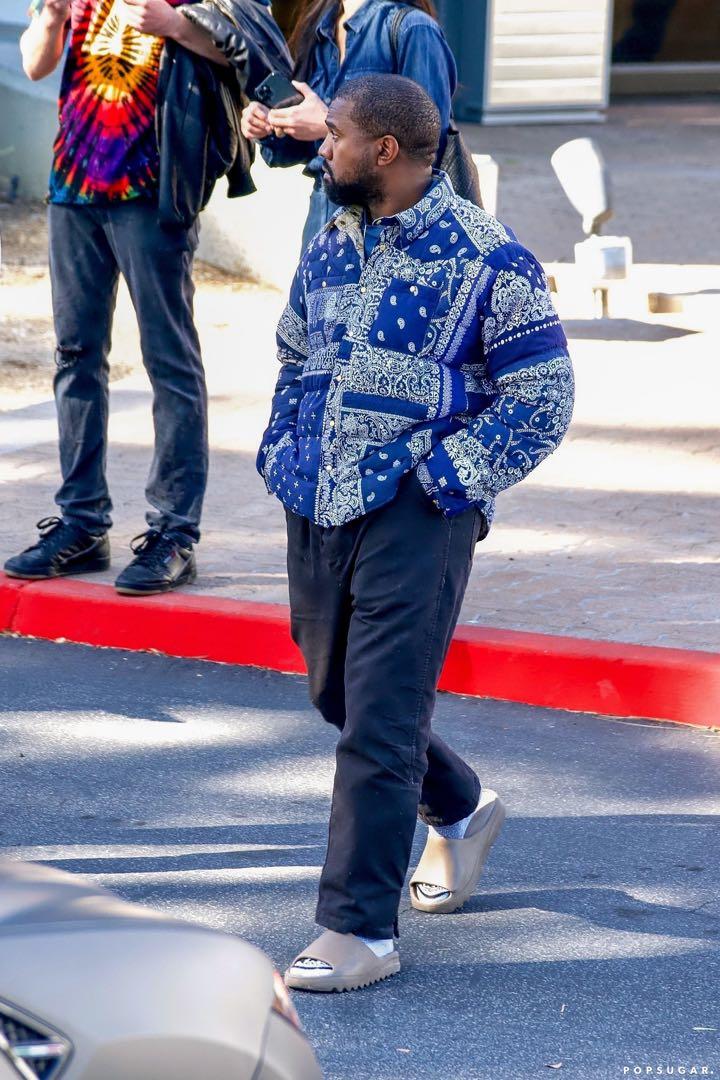 Oddly enough, Kanye himself is rarely seen wearing his own masterpiece! However, it is probably his home-office beater (which it was designed for), so maybe he prefers to sport some more extraordinary footwear when leaving his house. Still, we have some inspiration from what Kanye might have had in mind during the design process. 
His envision seems to be a combination with an eccentric 4000$ visvim VMW paisley puffer jacket! While this price tag kind of defeats the purpose of a low-cost sandal, the fit is pretty insane! 
Of course, there are plenty of alternatives! Paisley puffer jackets are readily available, maybe you can even find a colour that better matches the colourway of the Yeezy Slide you opted for!
A different approach by Mr West sees the Yeezy Slides combined with black sweat-shorts and an oversized Taupe hoodie, presumably from his own Yeezy clothing line. Unfortunately, this style will be a little tricky to match, since this exact colourway has not been publicly released yet! However, with your own touch of creativity, the fit still gives decent inspiration for a fire potential outfit!
2. Ex-Wife? Still Sliding...
The sign that got everybody's hopes up! Kanye and Kim returning from a family holiday after speculations about a possible divorce. Kim Kardashian leaves the jet wearing Yeezy Slides! Reunited? 
Unfortunately, the divorce was still filed. Maybe Kim's Yeezy era is over, we will have to wait and see. Nevertheless, the celebrity provided some inspo to add the slides to a more luxurious, summer-ready outfit. Combined with a semi-translucent pink dress, the Star showed the world how versatile and multifunctional the Yeezy Slides can be! 
Don't feel constrained to taupe sweatpants and creamy hoodies, be brave! Add comfort to your outfit without losing the flex!
3. Grammers to the Rescue
What would an outfit-inspiration blog be without some of the top Instagram fit-pics! From the community, for the community! Since Ye himself is reluctant to inspire us with outifts, the fashion world does the job just as flawlessly!
 1.
A comfy combination of cream "mnml" attire and the Yeezy Slide Pure
 2.
@he11o_hj wearing LOE apparel with the Yeezy Slide Pure
3.
@majascr wearing the Yeezy Slide Bone with Vacid socks, black loose jeans and a taupe crewneck
 4.
@missreina__ wearing Yeezy Slide Pure with cream sweatpants and a vintage shirt
How do you rock your slides? Found some inspiration? Slide in our DM's on Instagram and show us the outfit you have created around these beauties!
by Freddy Schwoerer of Drip Drops  
---
---
← Older Post Newer Post →
---