Stüssyesque: The Top 5 Stüssy Collaborations
• Freddy Schwoerer
The Californian brand never misses.
Most people that have had some contact with the fashion or footwear industry in recent years will probably have seen the signature Stüssy logo somewhere. The brand has become much more than a surfing-label in recent years, blessing the fashion world with clean and minimalistic designs, beautiful accessories, and recently footwear. From extremely understated takes on the Air Spiridon to a completely unexpected Dior collab, we round off the best Stüssy footwear collaborations of the recent years.
Stüssy Nike Spiridon Cage 2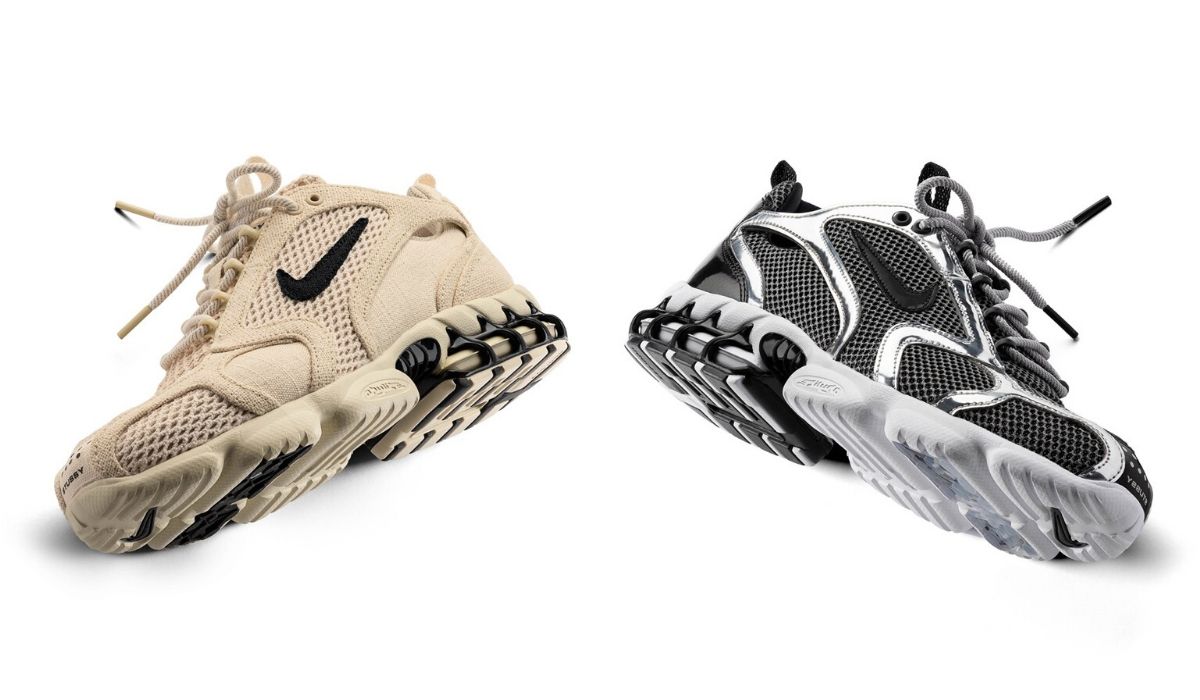 To start off the list, we've got to include a Nike collaboration. While Stüssy has been taking on other brands for duo's, its collaboration with Nike has risen in popularity and reach over the last years. The official multiyear collab started off with Stüssy's take on the long-forgotten Nike Spiridon, a versatile athletic lifestyle sneaker, known for comfort and durability. This brought a brand-new silhouette to life: The Spiridon Cage 2. Adding mesh onto the redesigned upper, replacing it with the standard upper materials changed the look entirely, and a monochromatic colour choice just adds luxury and simplicity to the shoe.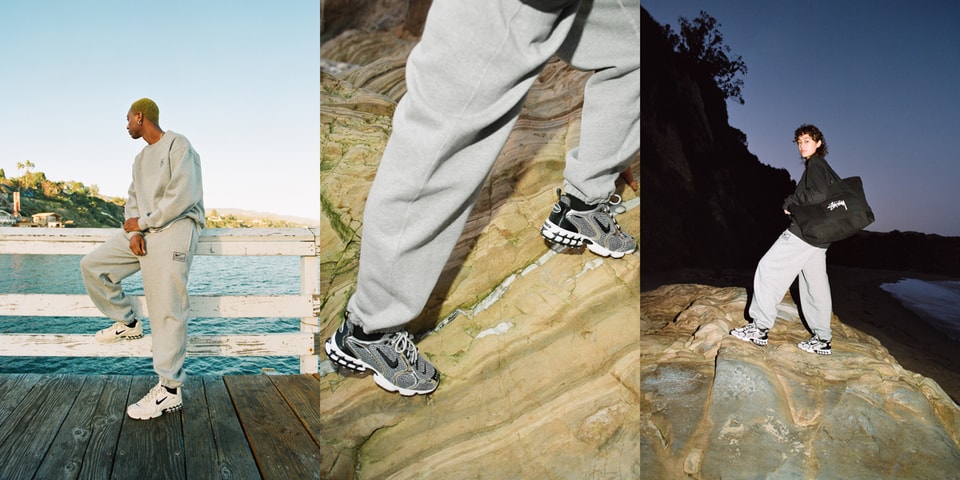 The sneaker relased in a metallic silver "Pure Platinum" colourway, and a tonal beige "Fossil", the latter dominating the former in all aspects. While the Pure Platinum is an interesting sneaker and falls very much into Balenciaga's current Asics knock-off trend, it was a little bit too much for the masses, and sneakerhead's eyes fell more onto the Fossil.
A beige mesh upper is overlay with woven textiles in the same colour, only accented by a smaller black swoosh on the sides. To provide cushioning and construction-inspired elements, a plastic cage wraps around the rear part of the outsole, which forms the foundation of the (surprisingly) comfortable Nike Air midsole.
The sneaker released at the perfect time: Stüssy was gaining insane popularity, the world needed a refreshment from Dunks and Jordan 1's, and people were looking for an overall wearable chunky dad-sneaker. The Nike Stüssy Spiridon Cage 2 fulfilled all these desires, resulting in one of the most popular silhouettes of 2020.
A few weeks later, the duo was back on a third colourway of the collection, decorating the sneaker in a muted black with a grey outsole. While the shoe never gained as much popularity as the previous release, it's the personal favourite of many collectors, thanks to the sleek and powerful design. One of the most wearable black chunky sneakers out there right now!
Stüssy Birkenstock Boston Clog
More unexpected than the Nike collab was Stüssy's announcement of a partnership with Birkenstock. After recently being acquired by Louis Vuitton's conglomerate LVMH, the well-known German sandal producer has finally reached a base to collaborate with high-end brands and redefine their product line entirely. The first step in this process was immaculately executed, with arguably the best Birkenstock pairs to ever release thanks to the Californian streetwear brand.
Stüssy's take on the Birkenstock Clog dressed the shoe in an absolutely stunning suede upper, matched with dark brown suede lining on the "anatomically designed footbed" (whatever that means), and an embossed Stüssy logo on the lateral upper to subtly hint at the collaboration. Releasing in a muted "Dusty Pink", a crispy "Bone", and an autumn-ready "Caramel", all three colourways were ideally timed for the recent demand for comfortable and aesthetic clogs.
For those who are looking for a more luxurious and conventional approach to sandals and just can't get used to the Foam RNNR hype, the Stüssy Birkenstock Clogs are the ideal summer sandal. From home-office straight to the beach, Birkenstock's versatility is endless, and with Stüssy's touch, you're still on top of the hype.
Stüssy New Balance 990v4
Way ahead of its game. A few years ago, New Balance was still completely under the radar, known more for their athletic focus and durable dad-shoes than anything hype-related. With Teddy Santis' arrival at the brand, things changed for good. New Balance has become the prodigy in the sneaker community, obtaining organic hype levels that Nike and adidas could only dream of. However, there have been some releases before the wave that went somewhat unnoticed, but have crept up on us to become extremely sought after.
In 2017, Stüssy teamed up with the US-based sneaker brand to create one of the cleanest, most wearable, and most luxurious New Balance sneakers to date. Taking the 990v4 silhouette – the epitome of dad sneakers – the duo implemented a mesh and suede upper in creamy beige tones, resting on a beige and cream Encap-technology midsole.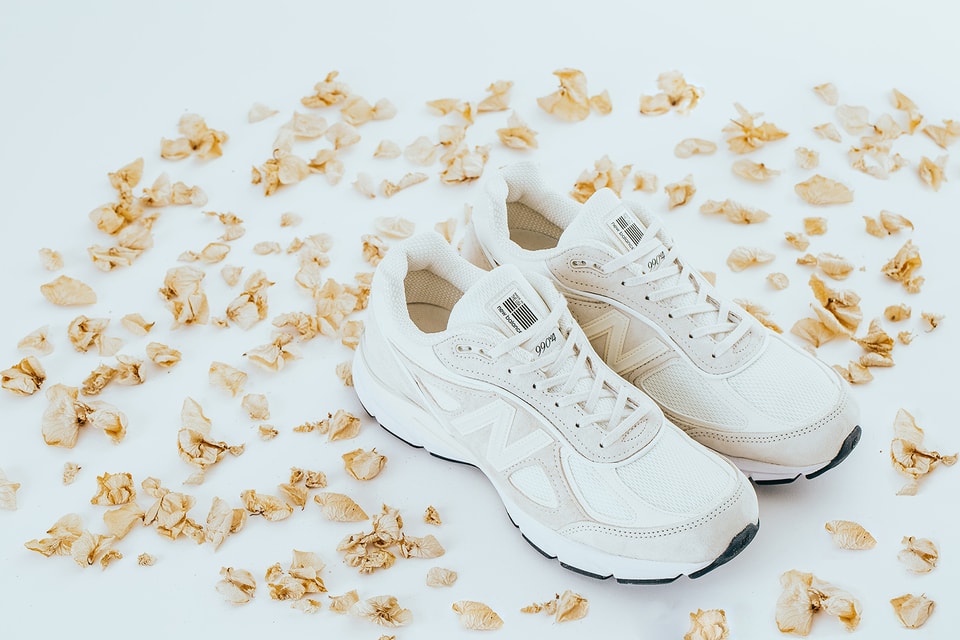 Besides minimal logo-placement on the insole, there is no sign of Stüssy on the shoe, which makes the final product even more interesting. The collab was focused on design and quality, not on name branding and hype, something we unfortunately see too rarely today.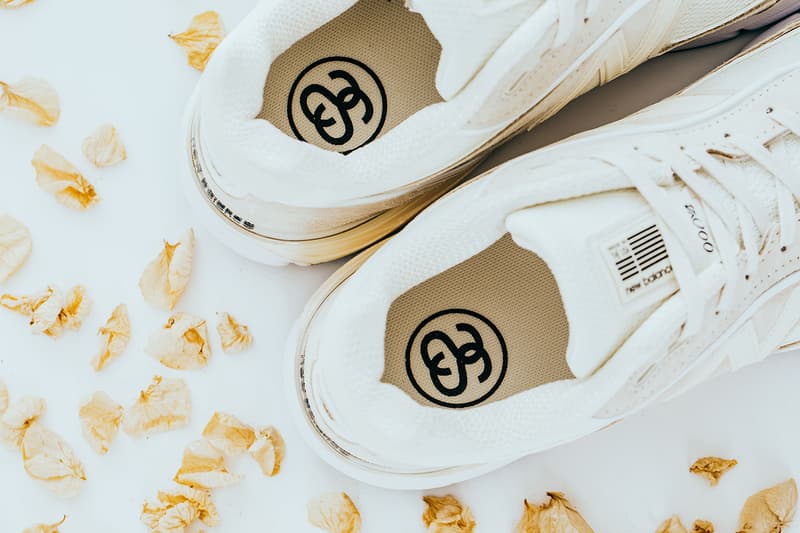 With New Balance's rise in popularity, and an insane hype-gain in the 990v-collection, this sneaker has quietly obtained hype-status amongst collectors. Not only is it a special sneakers for those who have supported Stüssy and New Balance for long, it's also a genuinely aesthetic and wearable shoe that maximizes versatility and comfort. Unfortunately, you'll have a hard time finding the shoe for a good price, given that it released in small numbers five years ago (hit me up if you have a US9 please).
Stüssy Dior "Dior and Shawn"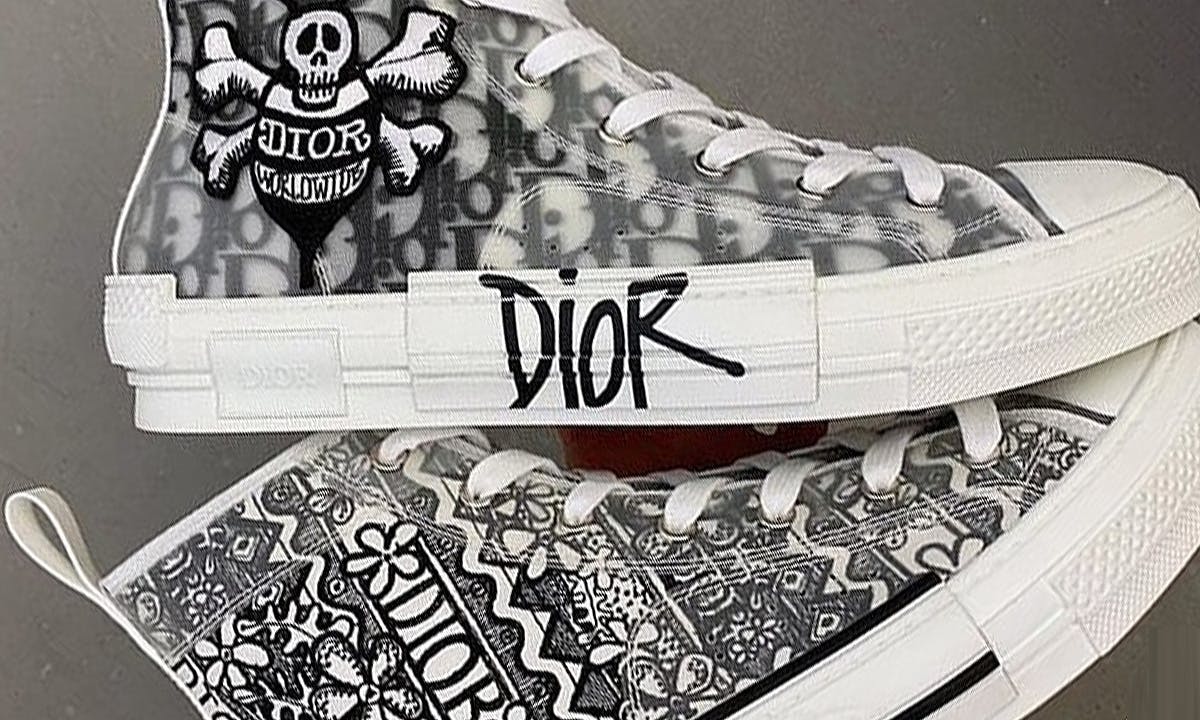 In 2020, many unthinkables happened in the fashion world. Balenciaga teamed up with Crocs (!), Gucci revived their hike-collection with The North Face, and Dior just decided to recruit whoever they could find for collabs. From a Dior Jordan 1 to an entire collection with rapper Travis Scott, the brand made sure that their entry into streetwear didn't go unnoticed.
However, the French luxury fashion label teaming up with Californian surf and streetwear brand Stüssy was something none of us saw coming. Dubbed "Dior and Shawn", head of design Kim Jones teamed up with legendary founder and owner Shawn Stüssy to reinvent many of Dior's authentic and signature looks.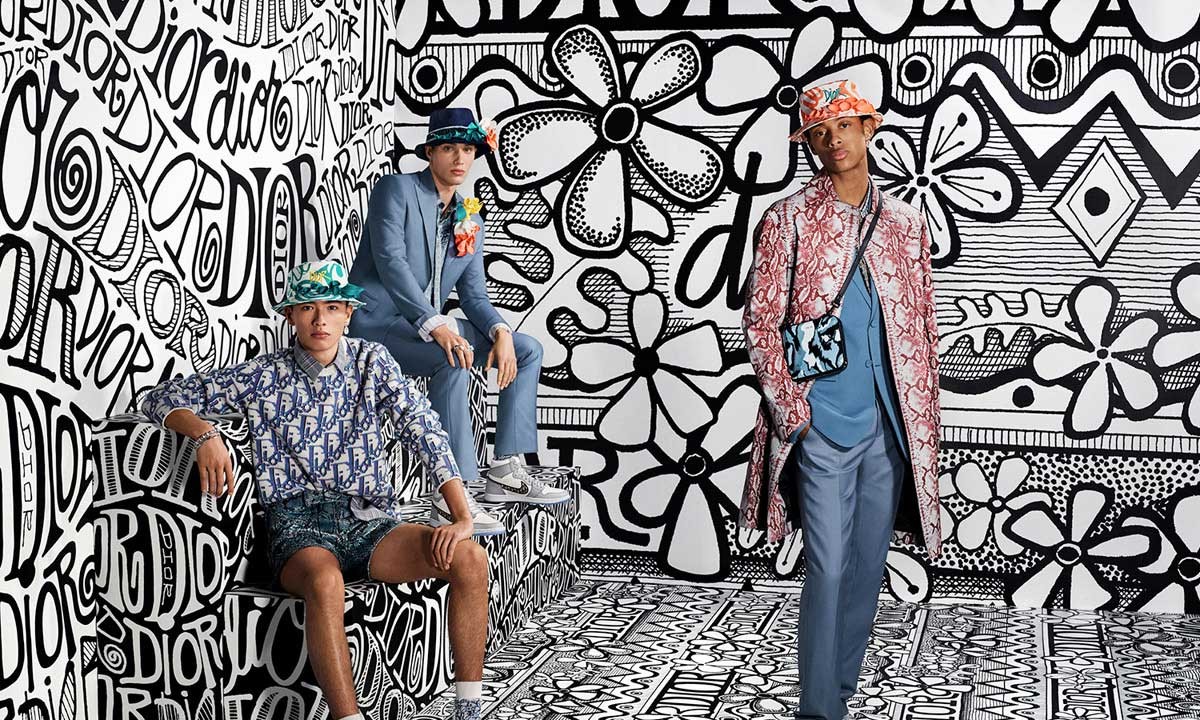 The collection featured three themes. The Psychedelic Print line-up took Stüssy's signature artistic styling as a backdrop for accessories, sneakers, and apparel, altering the Dior-logo to match the theme. The beloved Dior Bumble-Bee also received the Stüssy treatment, converting the bee into a bone-and-skull design that results in a playful, artistic, and creative touch. Lastly, Stüssy's famous Graffiti-print logo was used as a canvas to convert classic Dior pieces into modern and contemporary designs, which are nevertheless kept minimalistic and luxury-focused.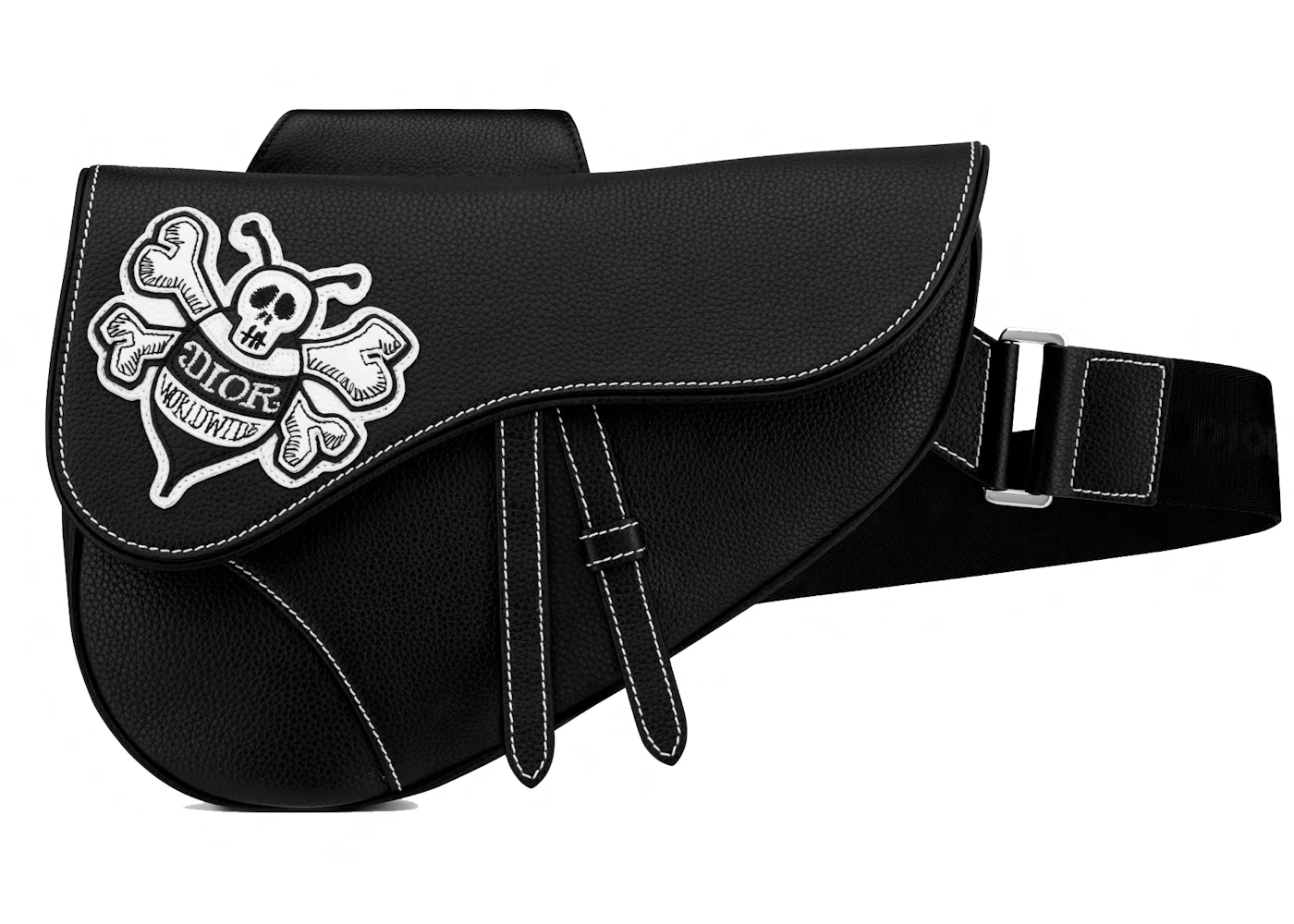 The entire collection wasn't only stunning, it was a statement by both parties. Dior demonstrated that it was more than a boring and unapproachable high-end fashion house, that it was ready for youth-inspired and unconventional changes, that the brand seeks to approach a younger generation with focus on streetwear. Stüssy, on the other hand, overcame its pure street-focused image and dove straight into high fashion with this collab.
Nike Stüssy SB Dunk Low Cherry
This is unarguably the best, most sought-after, most aesthetic, and unfortunately most unobtainable collaboration Stüssy has ever been involved in. In 2005 (17 years ago!), the Dunk was seeing its first wave of hype, way before the current cow-milking we're in. Skaters would camp in front of skate-stores to get their hands on the newest silhouettes, and actually skate them.
As part of Nike SB's Team Manager series, every industry team manager had the privilege to put their design on an SB Nike shoe. The marketing department was lucky to have Robbie Jeffers as a manager, who recruited Stüssy to dress the Nike SB Dunk Low in a Neapolitan Ice Cream colourway.
Instantly recognizable, the sneaker featured a shy pink leather base, overlay with brown leather, and finished with a cream swoosh. The Strawberry, Chocolate, and Vanilla flavours will melt your eyes, water up your mouth, and warm your heart. As the cherry on top, the SB Dunk Low "Cherry" features a waffle-cone insole design and a cherry stitched onto the tongue label. There are only a few sneakers that are better than eating a real Neapolitan Ice Cream, but the Stüssy SB Dunk Low Cherry allows you to enjoy both simultaneously.
The Stüssy Nike SB Dunk Cherry Price Development (StockX)
Unfortunately, the Dunk hype in recent years has made older Dunks even less accessible, and with the beautiful design and historical heritage, the SB Dunk Low Cherry is literally impossible to cop. Only a few collectors still own a pair, and if you're looking for a deadstock version, you might as well give up right now. Nevertheless, we have the images that allow us to keep dreaming and drooling, while we watch the resell-prices continuing to skyrocket.
Stüssy doesn't rely on collabs. Their collections often sell out immediately, their accessories are chic and modern, their clothing is of highest quality, and their campaigns are incredible. Nevertheless, when the brand does decide to collab, the results are beyond miraculous. Subtle touches, hidden hints, focus on design instead of monogram logos, Stüssy's signature is elusive, yet instantly recognizable and loveable.
Any collabs you would've liked to see on this list? Let us know in the comments below.
By Freddy Schwoerer of Drip Drops
---
---
← Older Post Newer Post →
---