The Best Food-Inspired Sneakers
With just over a week before the highly anticipated release of the sublime Nike Dunk Low 'Lemon Drop', it's thyme to round off some of the best food-inspired sneakers of all time! Some of these are nuts, so we hope you're eggcited for some tasty sneakers and bad puns! Lettuce start:
5. Saucony Shadow 6000 "Avocado"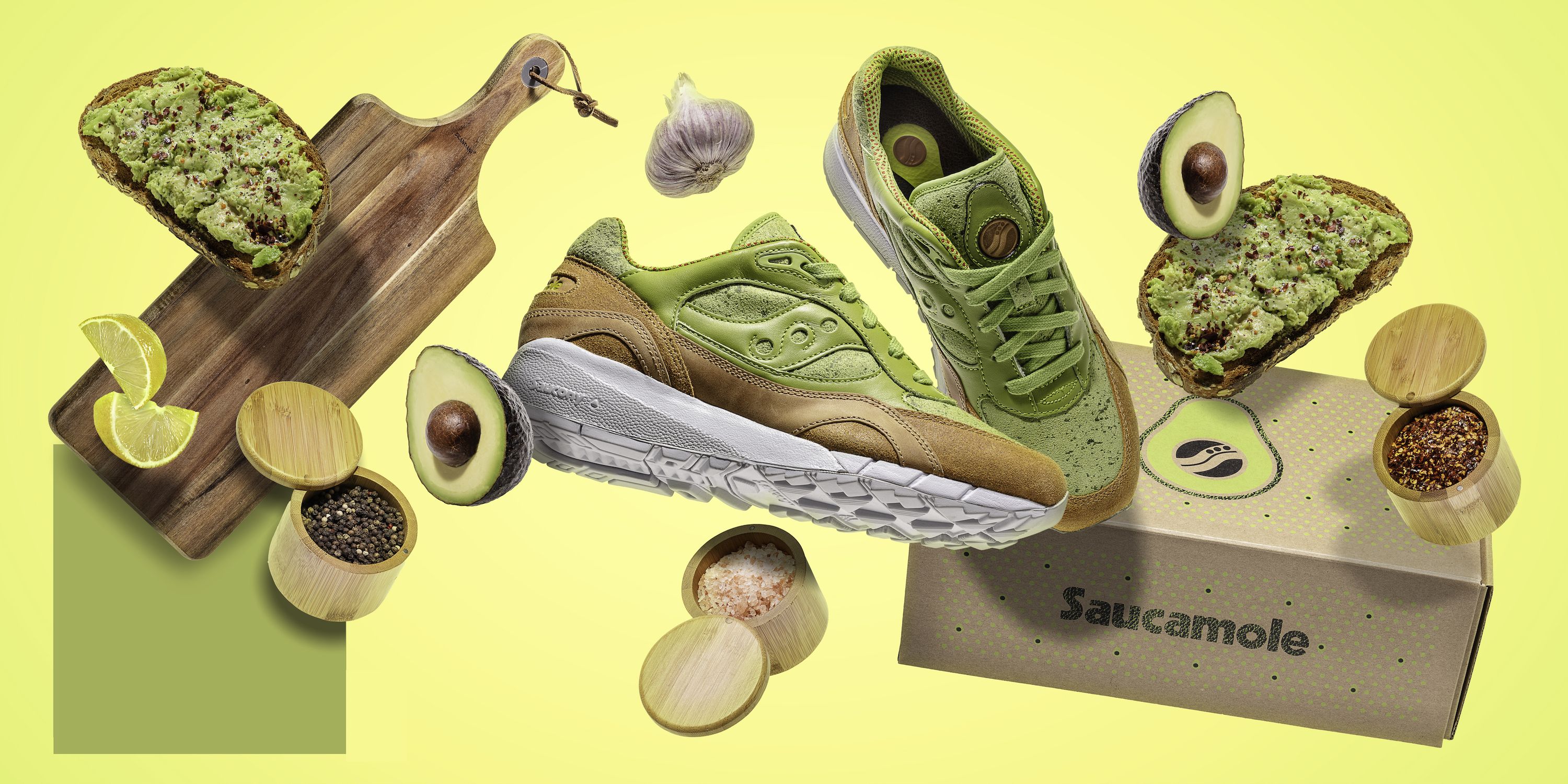 A great start for those who love the "good fats"! Avocadoes are delicious, healthy and (when ripe) pretty aesthetic too! Put it on a toast and you've got a delicious breakfast ready to eat! So why not make a sneaker dedicated to this phenomenal cuisine?
Turns out, it has been done. In early 2019, sneaker brand Saucony released one of its most popular silhouettes, the Shadow 6000, dedicated entirely to Avocado Toasts! And the final product is insane – not only does it fully resemble what it's meant to resemble, it actually looks fire too!
...
For those who have difficulties seeing the analogy, the green nubuck upper is the avocado, the brown leather represents the toast, and Saucony even included red details on the stitching to resemble the pepper flakes in your guac! To top it all off, they went hard on their puns themselves: Saucamole on the heel really reinforces the inspiration!
Saucony always creates comfortable and durable products… high quality, like avocadoes!
4. Nike SB Dunk Low Ben & Jerry's Chunky Dunky
You probably eggspected this one, didn't you! Right in time to catch the ultimate hype-peak of the SB Dunk Low, Nike teamed up with arguably the best (and definitely the most popular) ice-cream manufacturer for the Chunky Dunky. No need to explain where the design features come from just take a look for yourself! That yellow swoosh is Drippppping!
...
While some sneakerheads feel that Nike really milked the cow with this sneaker, most of us never had a chance to cop it anyway – so don't cry over spilt milk!
If you own this pair, chances are you already own enough shoes to have your rotation covered… why not use the Chunky Dunky to eat Chunky Monkey out of? OG Sneakerhead and founder of Solebox and Sonra Hikmet Sugoer did just that! Warning, this video may trigger some hypebeasts!
3. Nike x Skate Mental Janoski "Pizza"
Those of you who've been anxiously waiting for a pizza-inspired sneaker, you deserve a slice of the action too! Take a bite out of this eye-catcher featuring a full-print pepperoni pizza upper!
Maybe it's coincidence, but that white swoosh, lacing system and midsole surely looks like mozzarella to me! One thing is for sure, you'll get hungry practicing your kickflips in these shoes. Make sure to have some real pizza ready, since taking a bite of these is not really advised!
...
Unfortunately though, you can't just call and have it delivered to your doorstep, the shoes are quite hard to find. They'll cost you more than just smashing a pepperoni from your local pizza store onto a white pair of Janoski's, but that choice is up to you! Bon Appetit!
2. End Saucony Shadow 5000 'Burger'
Some executive designer at Saucony really loves food. This time around, the brand teamed up with British Retailer END to create a whopping sneaker!
Colour blocking is absolutely ham! The red, green, pink and brown suede/nubuck upper resembles the typical TS (which stands for Tomato/Salad – fun fact), and the hamburger embroidered on the tongue makes sure that even the most oblivious will understand the inspiration. Food collabs just need those small details, and the Burger-Box and BBQ & Mayo Lace Bags surely tick that off the box!
...
People are surely gonna check you out with those buns! I'm Loving it!
1. KFC Crocs
Feast your eyes! At first, everyone thought it was a joke, but it turned to reality – a collaboration between Kentucky Fried Chicken and Crocs. HOT!
The foam clogs have seen a spike in popularity… 50% irony-filled social media, 50% lockdown, Crocs really found their niche in 2020! After interesting collabs with Post Malone, Justin Bieber and more, Crocs actually released a KFC shoe, which looks like KFC, and SMELLS LIKE KFC!
No joke, the shoes include two Jibbitz, with smell like fried chicken! The brand does disclaim that the article should not be used for human consumption, but I'm pretty certain someone has tried. The entire plastic upper has KFC's chicken wings printed on, while the sole resembles the Fast-Food Chain's iconic red/white colour blocking.
...
Missing Sanders? The Colonel is hiding on the heel, staring back at the people behind you who can't take their eyes (and noses) off this shoe.
Head-turner, stomach-churner, finger-licking good! Definitely on my bucket list…
What did you think of our Top 5? You hungry yet?
Make sure to check out Drip Drops to always get the hottest kicks before anybody else!
by Freddy Schwoerer of Drip Drops
---
← Older Post Newer Post →
---