• Freddy Schwoerer
 D(r)unk in Love?
The train doesn't stop! The Dunk Wave just keeps on going, Nike is releasing new colourways and special editions non-stop, every single one is sold out immediately, this is beyond what anybody could have imagined!
It's mid-2021, we are over a year into the Dunk-wave, and we still have plenty of colourways coming up to get excited about! From unexpected collabs to iconic colours, we give an overview of the best upcoming Nike Dunk Lows, and how Nike is killing the hype!
1. Nike x Stingwater SB Dunk Low "Magic Mushroom"
...
Nike is recruiting a small skate brand for its latest collaboration on the SB Dunk Low. Stingwater is known in the skate community for its unconventional and somewhat provocative designs and motives, a successful means to become an established brand in the scene.
Stingwater 2021 Beanie Collection
As an inaugural footwear collaboration, the brand teamed up with Nike to produce an SB Dunk Low that is remarkably different to any edition we have seen yet. Utilizing their familiar Mushroom motive, the sneaker features a smooth University Red leather base with overlays resembling a toadstool. The upper consists of mainly red tones, with the exception of the cream tongue and the brand's logo above the mini-swoosh on the medial side of the shoe. Unlike most Dunk silhouettes, the swoosh resembles more the Air Max "Jewel" line, kept at a minimal size to be recognized but not stand out too much.
The brand loves mysterious imagery and themes, with "Empty your Mind" and "Plant Emoji With Eyes" lettering appearing under the tongue and the outsole, respectively.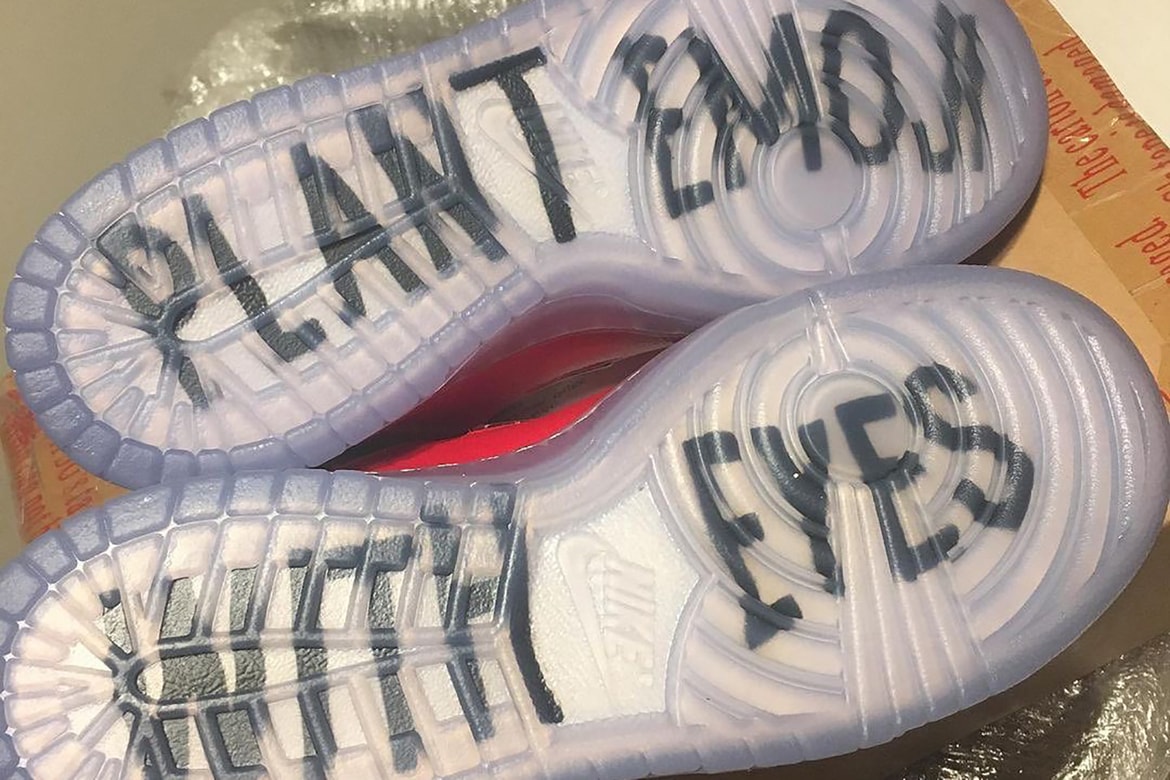 Seriously a crazy sneaker, it tells a story, it truly features the brand's character, it's vivid but clean – one of the best Nike SB Dunk Lows so far!
2. Nike Dunk Low "Lemon Drop"
...
At first glance, the Lemon Drop may seem like any regular Dunk Low, with minimalistic and harmonic colour blocking. Easy-peasy, lemon-squeezy?
Nope… At closer inspection, many details from its fruity inspiration emerge… The off-white tumbled leather serves as a base for lemon-inspired overlays. However, the swoosh really sets things in motion – an Opti Yellow swoosh features material that seriously looks – and feels – like a citrus-peel. An immediate eye-catcher! Zesty…
Further, elements of "Zitron" cover the tongue and heel panels, adding even more juice to the shoe. To finish off the theme, and to help out some more oblivious individuals, a lemon is embroidered on the heel!
When life gives you lemons, wear the Lemon Drop!
3. Nike Dunk Low "Flip The Old School"
...
Okay, this one is weird… Don't be surprised or perplexed when you unbox the sneaker and only see newspaper-like material at first. Nike went all-out with their creative packaging on this one, covering the shoe with tissue paper to allow you to reveal the upside-down design yourself.
The sneaker might remind some fans of the Nike Blazer Mid x Slam Jam, which also featured this bizarre, flipped Swoosh on the medial side. However, while the rest of the Blazer Mid was kept in its true form, the Dunk has more turn-arounds in store for us than merely a flipped Swoosh.
Nike Blazer Mid Slam Jam
Apart from the unconventional packaging and flipped swoosh, the left and right side of the "FTOS" are also mismatched, being polar opposites in colour blocking. While the right pair features a white base with purple overlay, similar to the Jordan 1 Court Purple, the left pair reverses this pattern. It's a wild one! Expect limited stock, so prepare for yet another L!
This one is a pair to stock, so don't flip the old school! 
4. Nike Parra SB Dunk Low 2.0
Not much has to be said here.
A gorgeous implementation of Piet Parra's characteristic colour palette. Mismatched like the Dunk above, but instead of reversed tones, the left and right pairs feature completely different colors altogether, blending harmoniously to create a real piece of art. While arguably not as clean and minimalistic as the first pair (2019), it does live up to the hype, and once again the iconic collaboration has delivered full-on!
Read more on this Dunk and the history of Parra and Nike here.
5. Nike Off-White Dunk Low "The 50"
Talk about milking the cow. Nike hasn't stopped rolling out Dunks, and Virgil's "The Ten" collection with the American sportswear giant has ended up in an assortment of over thirty sneakers. Mix the two together, and what do you get? 50 different pairs of Nike Off-White Dunk Lows. FIFTY!
The project is still speculative, and no official statements by Nike or Virgil Abloh have been released, but leaks of potential colourways have surfaced, all featuring a characteristic metallic (_/50) insignia on the midsole… so the rumours do seem to be true!
...
Hopefully, one of these fifty pairs will finally be the Nike x Futura x Off-White Dunk in University Blue. While images have appeared on Social Media, including those posted by Virgil Abloh himself, the sneaker has not seen any official release date, but the world is anxiously waiting! Especially now, after the recent retro of the Dunk Low University Blue, it's time that this beautiful collaboration finally becomes reality! Would be a real slam-dunk!
However, let's be honest…this is the straw that'll break the Camel's (or the Dunk's) back. Sneakerheads are drawing parallels with 2019/2020 Yeezy 350 releases to Nike's non-stop Dunk roll-out, arguing that the brand is killing the hype.
Unarguably, this was Nike's strategy all along, and they are profiting from it more than they could have possibly imagined. But it just demonstrates the current nature of fast fashion, which ultimately clashes with Nike's "Move to Zero" program towards a sustainable industry. Dropping two to three new colourways that will certainly sell out every week doesn't sound too sustainable to me, but maybe Nike has other ideas about this!
However, we should still be able to get excited about some special editions, interesting collabs and art-inspired silhouettes! 2021 is the (second) year of the Dunks, so let's embrace the amazing designs awaiting us this year!
by Freddy Schwoerer of Drip Drops
---
---
← Older Post Newer Post →
---