Top 4 Louis Vuitton Air Force 1's!
• Freddy Schwoerer
Virgil did WHAT?
TRAVIS vs VIRGIL
It's been an insane weekend for Louis Vuitton Moët Hennessey (LVMH), the conglomerate and owner of Louis Vuitton and Dior, among many other famous luxury brands. But specifically these two subsidiaries were in the limelight at this year's Paris Fashion Week – thanks to two icons. Travis Scott revealed a collection with Dior (What?) and…
Virgil Abloh – founder and owner of luxury brand Off-White, and Men's artistic director of Louis Vuitton shocked the fashion world on Saturday during the reveal of LV's SS22 "Amen Break" collection in Paris, France.
History of Virgil Abloh and LV
We all know the Off-White x Nike collection – going strong since 2017, the collaboration has produced multiple signature sneakers which have helped to redefine the sneaker world in the last years. While Virgil Abloh has certainly adapted elements from Off-White's signature styles on Louis Vuitton collections, nobody expected the footwear of the models during this weekend's runway:
Louis Vuitton versions of the classic Nike Air Force 1, with Off-White elements to it. Never seen before, absolutely unexpected, absolute madness.
And not just two or three colorways – 21 versions. TWENTY-ONE. Both mids and lows feature the iconic monogram, graffiti elements, double-tongues, "AIR" text, comic figures, the list goes on.
From simple colorways to crazy chunky plastic graffiti-shoes, we round off our top 4 favourite colorways of the Louis Vuitton Nike Air Force 1's:
The Top 4:
 4. "UNC"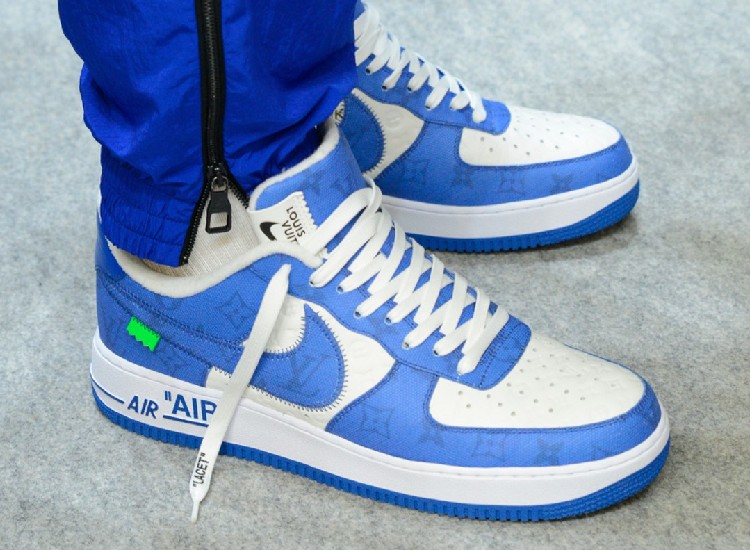 It's an easy one, and while many feel that it is screams too much "bootleg", I think it will look amazing on feet. The White/University Blue colourway is always an instant cop, be it an AJ1, a Dunk Low or an Air Force 1.
It's unisex, great for summer, easy to combine… can't go wrong with a UNC. Further, compared to many other colorways, the UNC is a little more subtle. It features the embossed monogram on the blue overlays, the neon-green "Off-White" tag and the Off-White "AIR" text on the midsole, but those are the main features that distinguish it from being a standard Air Force 1.
We'll have to wait for the final product, since this is merely a prototype, but let's hope Virgil doesn't change it up too much. It's simple, aesthetic and subtle.
3. Purple/White
Again, a little more subtle than the majority. Very similar to the UNC, but the University Blue leather upper is replaced with a vibrant Court Purple Canvas material.
Oddly enough, Virgil opted for a blue outsole, which somewhat clashes with the dominant Court Purple. However, it's not the first time Virgil chooses to defy norms, and it really doesn't look terrible.
Unfortunately, the neon-green tag on the swoosh makes an appearance once again, which does provide some contrast but is not really necessary. Still, a good colorway, let's hope it releases to the public!
2. Damier / Checker Monogram
This one is for all the vintage-fanatics and luxury collectors that might own a Keepall or a Neverfull and are still searching for that ideal sneaker to combine it with. Here's the solution for you.
The light version of the iconic Louis Vuitton Damier pattern on the swoosh and toe box add contrast to the dark overlay to enhance any LV-inspired outfit. The colors match, there is no unnecessary neon-green tag on the swoosh, no clashing outsole, it's just a clean shoe overall.
It'll undoubtedly be one of the most hyped colorways of the collection, but once again we can only hope that it releases to the public!
1. White/Black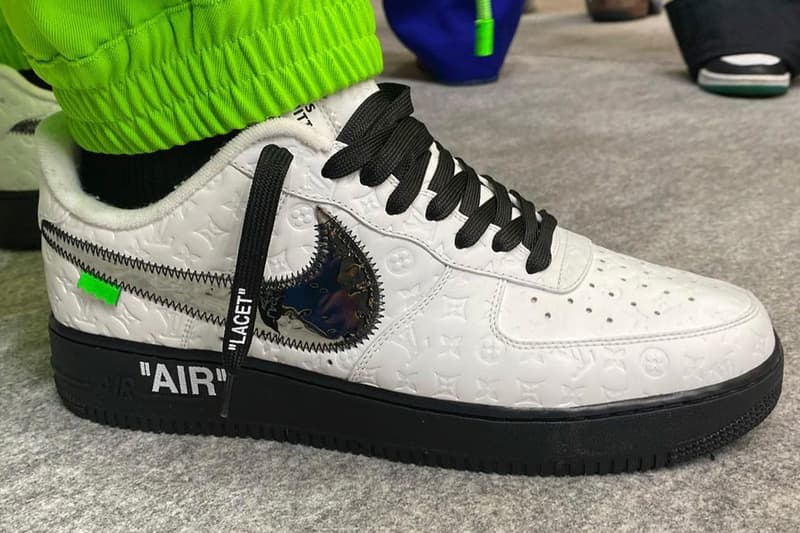 Ask any sneakerhead about their Off-White x Nike Grail and it will probably be the Air Force 1 "ComplexCon", released exclusively as a part of the AF100 collection at ComplexCon back in 2018. The sneaker is almost unobtainable, but enthusiasts now have a chance to grab what's potentially even a level-up: The Louis Vuitton Nike Air Force 1 White/Black.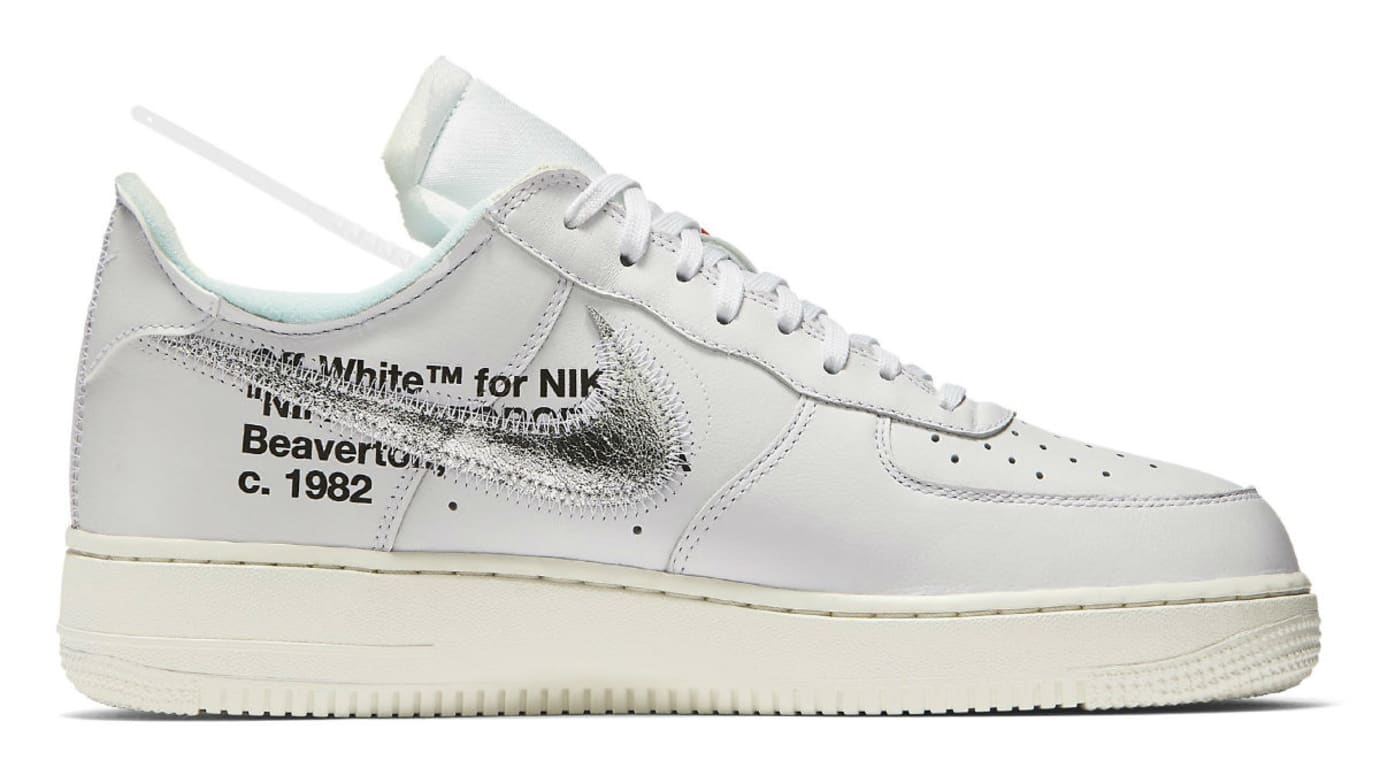 Nike x Off-White Air Force 1 AF100 "ComplexCon"
Similar to the ComplexCon, the sneaker features a white leather upper with a reflective Nike Swoosh and Helvetica text on the medial side.
However, the LV version features a contrasty Black outsole, which enhances the radiance of this work of art. The sneaker is simple, yet screams luxury. Get ready for those immaculate details that you'll only notice once you have the shoe in hand!
Definitely the best sneaker out of the collection, a must cop for me!
What's your favourite colourway? Let us know in the comments below.
---
---
← Older Post Newer Post →
---