• Freddy Schwoerer
We are tired of hearing the term "new wave" or "third wave", but what about "third Wave-Runner"?
One of the best-known chunky sneakers, a shoe that helped revolutionise the shoe industry, the Yeezy 700 Wave Runner has made its mark in the sneaker culture.
It's crazy colour patterns, chunky shape and extremely thick midsole distinguish it from other silhouettes, especially the preceding Yeezy Models. Yeezy fans were used to athletic runners, such as the Yeezy 350 and its successor, the V2. However, Kanye West's version of the dad-shoe, inspired by silhouettes such as the Balenciaga Triple S was remarkably different.
First look at the Yeezy 700 Wave Runner back in 2017
_________________________________________________________________________
History
First spotted at the Ye's Yeezy Season 5 fashion show back in early 2017, fans had to wait for a yeezysupply.com exclusive release in August 2017. The shoe then received a wider, international roll-out in 2018, before being restocked in 2019.
Nevertheless, the sneaker remained ultra-popular, as the frontier of Yeezy's now ultra-successful 700 line-up. The shoe was the foundation of many crazy and unforgettable colourways, such as the Yeezy Boost 700V1 Inertia and the recently released Yeezy Boost 700V1 Sun. 
Yeezy Boost 700V1 Inertia & Yeezy Boost 700V1 Sun
_________________________________________________________________________
Restock this Year?
Now, Adidas-expert Yeezy Mafia has teased a possible restock for later this year. While Adidas has yet to confirm these news, Yeezy Mafia has been extremely reliant in terms of sneaker releases in the past, so fans can already prepare for what will be an extremely hyped drop! Maybe not a bad idea to warm up your fingers already so that when the time comes, you can check out before it is sold out again!
Alternatively, you can be sure that the Yeezy 700 Wave Runner will be available on Drip Drops!
_________________________________________________________________________
The Look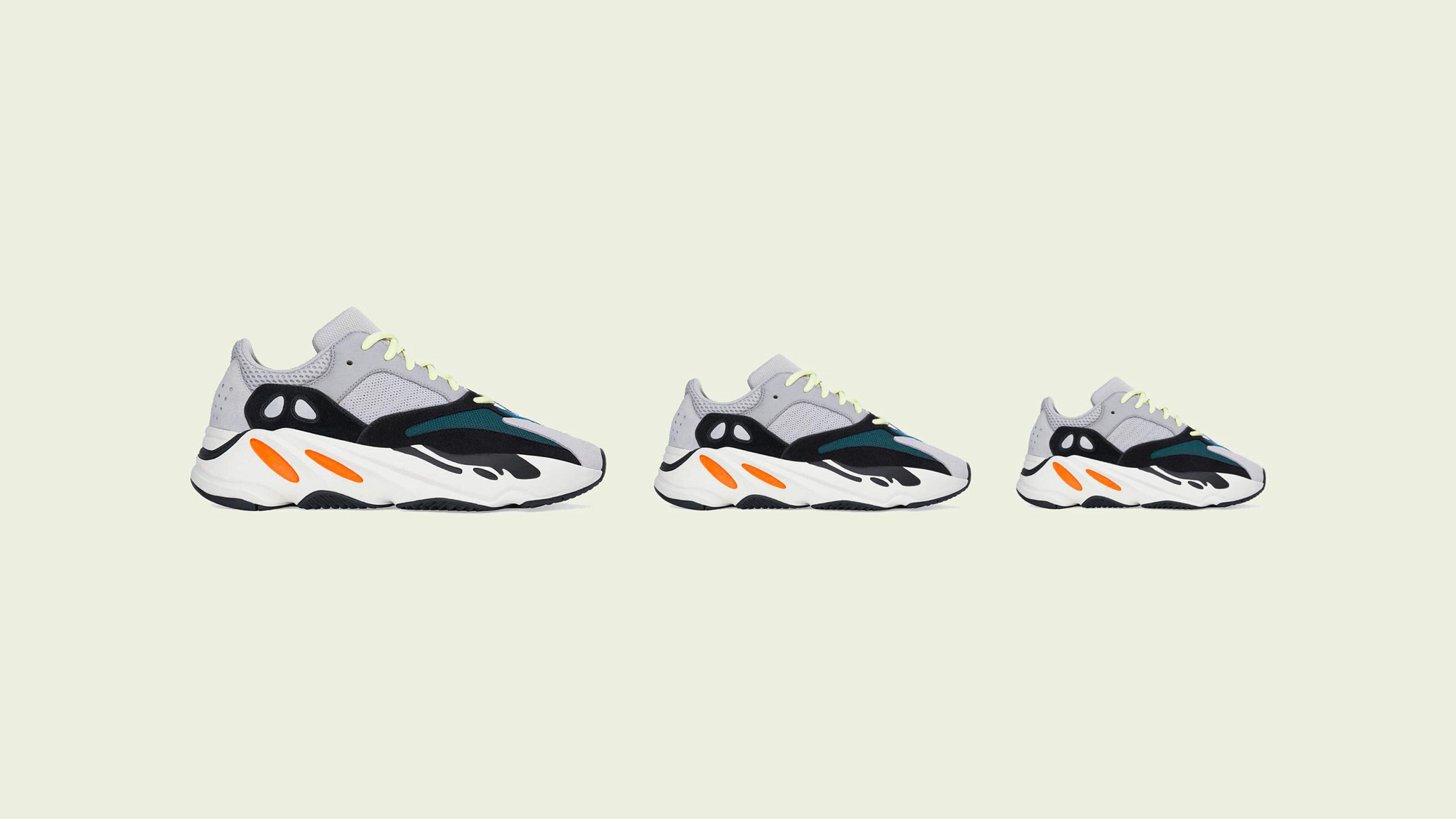 The Wave Runner features some 90's inspired aesthetics with teal, bright orange and neon-yellow details. The remained of the sneaker is constructed from suede and mesh elements in black, grey and blue tones.
Further, the 700V1 features high levels of cushioning, thanks to the Adidas Boost technology encaged by an off-white midsole. Recently, Ye has utilized other cushioning technology, such as the EVA in the Yeezy 700V3 and the AdiPrene in the Adidas Yeezy 500, but Boost technology remains the go-to midsole for many sneakerheads.
The shoe is finished off with pops of black and bright orange on the midsole and a contrasting black outsole.
If the stores are open by August, you will have to be a (wave) runner to get in-line first, because the Yeezy 700V1 Wave Runner will definitely be extremely hyped and near-impossible to get!
 by Freddy Schwoerer of Drip Drops
---
---
← Older Post Newer Post →
---