What's New at Drip Drops: Sneakers, Jewelry, Accessories:
• Freddy Schwoerer
It's been a crazy month. Nike has been dropping mad Dunk and Jordan 1 colorways, Kaws teamed up with The North Face on a stunning collection, February has been a wild ride. We round off the best new items available now at Drip Drops!
Nike Dunk High
One of our goals is to provide you with the widest variety of hyped and sought-after sneakers for the best price in town. While we are certainly stocking up on basically every sneaker currently releasing, it's still the Dunks that most of you are after! Throughout the last months, we have focused on stocking up on all the latest Dunk silhouettes, from General Releases to limited collabs and special editions.
Starting off with Dunk Highs, the "Green Suede" is a beautiful colorway ready for the spring season. If you're into a suede upper and understated tones, you surely won't regret copping this beauty. The "Ring Bling" is for those who like to shine a little more, or for those who need a matching sneaker for their recently bought Unravel Paris Jewelry (see below). The matching silver lacing dubrae will catch everyone's attention – in a good way. If you're looking for a dichromatic, easy-to-wear Dunk High, the University Red or Pink Prime might be ideal for you… Flashy but clean. If you're more into neutral tones, the Moon Fossil and Sail Gum are ideal for you.
Nike Dunk Low
Spring won't wait much longer, so it's time to start thinking about some low-top silhouettes for the warmer weather. Dunk Lows will keep pushing through 2022, so no worries in making some good cops here. You'll find endless choices on our website or in-store, we literally have a Dunk Wall. To make it a little easier, we do have some top pics of this month.
The Dark Marina Blue is an ideal add-on if you already have the Jordan 1 Marina Blue, or an alternative if you missed out on that beauty. If the patent dichromatic colorways such as the Gym Red or Grey Fog are too simple for you, we have enough special editions to stand out a little more. The Laser Blue and Lagoon Pulse boast beautiful hues that are absolutely spring-ready. For the animal-lovers, the Reverse Papa Bear or the Medicom BE@RBRICK Dunk Lows put the (faux) fur right on your feet.
If you are looking for something more on the higher-priced spectrum, look no further than edition 25 and 26 out of "The 50" Dunk collaboration with Off-White. They're iconic and will forever remain as such. Lastly, for those really looking to cop something crazy, we just got the Supreme x Dunk Low Stars Black in stock. The absolute grail of Dunk Lows may just be your latest trophy!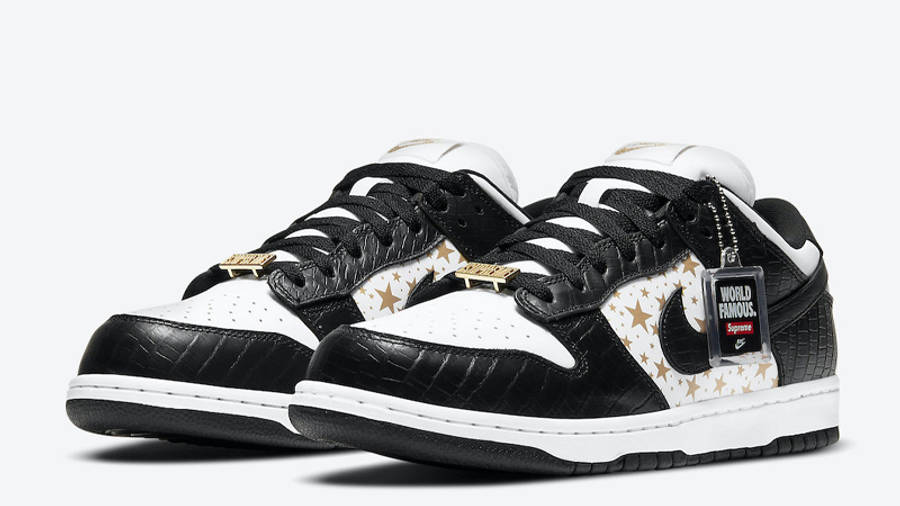 Nike Dunk Low Supreme Stars Black
These are just some top picks, but the selection will make your choice so hard, that you basically can't go wrong with any choice. Check out the entire range online here or in-store at Rue de Lombard 11, 1000 Brussels!
US-based contemporary artist Kaws teamed up with The North Face this month to release an entire capsule of colorful ski-ready apparel. The KAWS:HOLIDAY line-up includes the famous 1994 Mountain Light Jacket, the ultra-popular Nuptse, fleeces, t-shirts, ski-pants and more. Playing with trippy patterns and flashy colours, the final products represent Kaws' bright and vivid inspiration, yet maintain TNF's minimalistic and clean finish.
Kaws x The North Face Retro 1986 Mountain Jacket
While collaborations have certainly become less popular throughout the last year, this collection proves how much creative potential a special and well-thought-out partnership can have. Kaws is a visionary and will remain relevant for years to come. Combined with The North Face's eternal heritage, this capsule is a collectible for all fans of the artist, and a must-cop for those looking to go beyond the standard all-black TNF Nuptse.
Be the king of the mountain with this beautiful capsule. Cop the entire line-up on Drip Drops here.
Most things in today's fast-fashion industry come and go. Some items make waves, but even the most hyped sneakers will someday lose relevance. Look at Yeezy 350's, Huarache's, even Jordan 1's will follow this trend soon enough. However, some pieces remain relevant forever. It's the undercover, less talked-about pieces that seem to have low demand, but nevertheless everybody owns one. New Era Caps are an excellent example of these phenomena.
You'll find few individuals, let alone sneakerheads, that have never owned a New Era cap throughout their lifetime. Caps are often more than just an add-on to your fit. They can make or break an entire outfit, they have potential to make a boring fit look incredible, or vice versa. Their versatility is endless, the range of choices is infinite, and you'll be thankful for them once the summer sun comes out.
Our mission at Drip Drops is to give you the opportunity to leave the store with everything you need to construct a flawless new outfit. Therefore, we now provide a range of New Era Caps, including limited editions and high-end pieces, to make sure your needs are always satisfied. We've got NY and LA trucker caps, the Nike x Parra Olympics cap, and those looking for more high-end products will find gorgeous Gucci and Louis Vuitton caps ready for your cop!
Check out the entire collection of hats online or in-store at Rue de Lombard 11, 1000 Brussels.
Unravel Paris x Drip Drops
We started off with selling sneakers. However, we soon realized that we can offer you so much more than that. Moving on to selling apparel proved that Drip Drops can be your ultimate source of streetwear. To complete your shopping experience, accessories can't be left out of Drip Drops' products.
We teamed up with upcoming Paris-based brand Unravel Paris to provide you with high-quality exclusive jewelry. All items in the collection are plated in 18K yellow gold or 14K plated white gold. The range includes vermeil rings, bracelets, Figaro, and Tennis chains, as well as those fat Cubans you've always wanted to own.
Unravel Paris Spinning Vermeil Ring Silver
Some items are enriched with CZ Diamonds exclusively handcrafted and manufactured by Unravel Paris' master diamond setters, allowing you to shine brighter than ever before. Complete your sneaker & apparel purchases with an icy chain or a bling-ring to enhance your latest fit even more. Regardless of how crazy the sneakers, how rare the shirt, luxurious accessories are a necessity to complete any outfit.
Figaro Vermeil Chain Rose Gold
All Unravel Paris items are available exclusively in-store at Drip Drops, Rue de Lombard 11, 1000 Brussels.
The Drip Drops team is always pushing to provide you with the best footwear, clothing, and accessories. Come visit us in-store for a chat, or some personal advice for your latest cops!
---
---
← Older Post Newer Post →
---