Why Palace & AMG is Special – A History
• Freddy Schwoerer
Palace Skateboards, the established British skate brand known for their iconic Tri-Ferg logo, has just revealed a collaboration with AMG, the performance division of Mercedes-Benz.
Center of attention: a race-ready Mercedes Benz AMG GT3 with Palace all over it. And the car is not just publicity, it will take part in the ADAC 24 hours Race on Nurburgring this month. To allow fans to also get a piece of the cake, the partnership is accompanied by Palace x AMG apparel, including motorsport-oriented clothing: Helmets, racing jackets, nylon tracksuits, the capsule is entirely track-ready. For those who prefer more ordinary clothes, the collection also includes the standard Tri-Ferg hoodies, shirts and more, all enhanced with the well-known AMG logo to really maximize the flex.
"Performance, Speed, and Cool Outifts"
Although not directly related to skateboarding, this is a significant collaboration for the British brand. Such collabs demonstrate Palace's creative variability and diversity, and shows a large step for the brand towards a more global target market.
However, this is not the first collaboration between Palace and a major non-skateboarding brand. We round off some of the best Palace collaborations of the last years and explain why they are so significant.
Ralph Lauren
Probably everyone knows the logo… a Polo player on a horse, mostly seen on sweaters, polo-shirts and caps. A true status-symbol in non-hype fashion. While pieces are certainly combinable with more hyped streetwear, the brand is not really established in the modern streetwear-scene. Therefore, the announcement of this collab was a real head-turner. Maybe even a neck-breaker. Superlative of unexpected.
Late 2018. Out of the blue, citizens of Tokyo started noticing mysterious Palace Ralph Lauren ads all over Shibuya, the shopping district of the metropole. A few days later, the characteristic promotional video appeared on Palace's social media channels, confirming the hot collab. However, even if fans had known about the partnership, nobody would have expected the roll-out to be this eccentric. Colourful, vibrant, flamboyant, horse-themes blended with drifting VW Golfs, the collection screamed "noble street".
Elegant knitwear, classy flannels, gorgeous corduroy puffers, the collection was flawless. The characteristic Ralph Lauren Bear kickflipping as a main motif on a blue sweater. Perfection.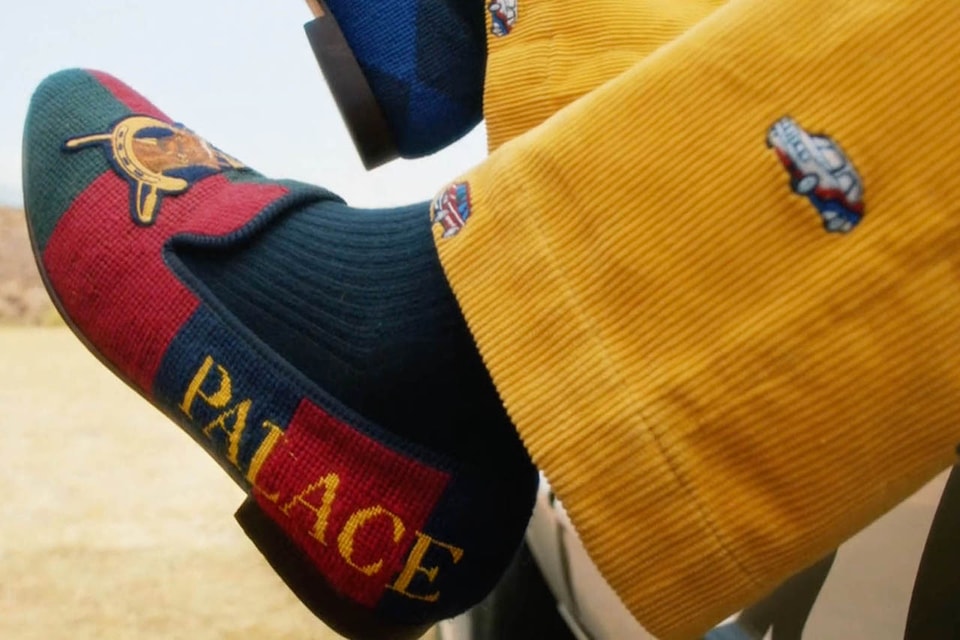 Correspondingly, the collection was one of the most hyped releases of the year, boosting Palace's reputation into cosmos. High-end fashion enthusiasts who had never associated themselves with the skate-brand were seen in Palace Loafers, wearing Palace caps, cuddling with a palace teddy bear. Unprecedented, unexpected, unreal. Certainly one of the best collaborations of all time.
Rapha Cycling
Cycling apparel is rarely fashionable. The aero-fit jerseys are always colourful, filled with logos and sponsors, eye-catching, vivid. Still, the athletic apparel rarely extends beyond a very specific target group: Cyclists know it when they see it, the rest sees it without knowing it. Rapha's mission was to change this.
The cycling-brand is known in this domain for keeping apparel simple, clean and pure. Attempting to make cycling fashionable, hip and trendy. What better way to emphasize this mission than with one of the trendiest brands out there: Palace Skateboards.
Giro d'Italia, one of the most prestigious stage races was around the corner, and US-based racing team Education First (EF) wanted to set a statement. All three entities decided to collaborate, fully kitting the team for the iconic race.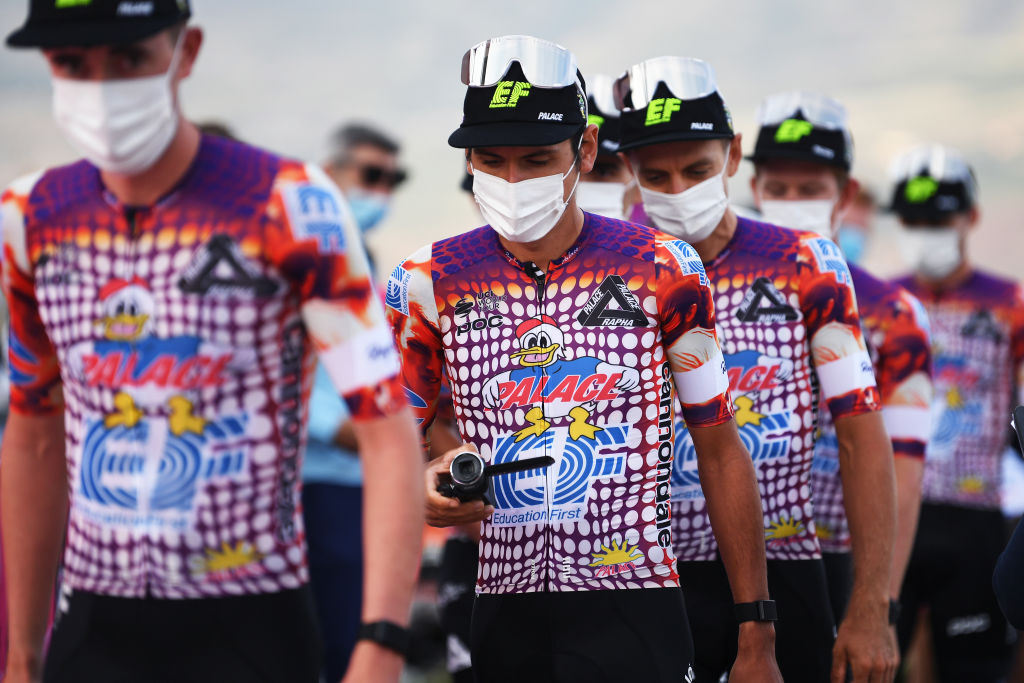 Palace and Rapha are both inherently British, have their flagship store in Soho, London, and enjoy switching up contemporary and conservative designs to truly stand out from the rest. Therefore it just seemed right to collaborate.
The capsule included a full cycling kit – Aero Jerseys, Bike Caps, Bib Shorts, even a water bottle. However, the collab was only 50% cycling, so the skate-world received some rewards too. Classic tri-ferg shirts, hoodies, longlseeves and even "Boojie Shirts" featured the well-known Tri-Ferg logo along with Rapha's prominent logo and a duck.
You read that right, there was no autocorrect due to swearing, the collaboration featured Palace's Duck. For Palace fans, this was humorous, but nothing extraordinary. We know the duck from decks, hoodies, shirts, the brand has plastered it on almost everything. But cycling fans must have been pretty confused.
However, given the disruptive nature of the collection in general, they might not even have noticed the duck… mismatched, trippy patterns, abstract polka dots, vivid colours, eccentricity at its best. For weeks, the cycling world did not speak about anything else than the EF team distorting conventional cycling apparel, insane publicity for everybody involved.
Another crazy move from Palace, the brand surely knows how to turn heads. Instead of subtly merging into skate-unrelated domains, Palace goes all Caesar: They come, they see, they conquer.
Juventus Turin (+ Jeep & Adidas)
Rumours appeared very early, but nobody really took it seriously. Nobody believed that a collab like this would actually happen… Palace collaborated with Adidas frequently before (the established Palidas line), but always limited to some shirts, some skate-shoes, a bathrobe now and there.
Parallel, football club Juventus Turin had just bought Cristiano Ronaldo, perhaps the most famous athlete in the world, at the time the best football player on the planet. The most-followed person on Instagram. "Juve" ascending to become one of the best teams in the world, on their journey towards league titles, Champions League victories, and more.
What would an Italian multi-million-dollar football conglomerate want from a relatively small skate-brand from England?
Apparently, they wanted a collab. We have seen Y-3 designed Real Madrid jerseys, Kith-designs on EA Sports FIFA, PSG x Jordan collabs… but Palace x Juventus Turin was new, it was more than that. It symbolized consilience, a progressive attitude. In recent years, Juventus revamped their entire business model to modernize the franchise, reach a wider and more fashion-oriented audience. A new logo, designer apparel… a collab with a skate-brand just fit perfectly.
The realization of the partnership consisted of football-dominated items: authentic jerseys, shorts, goalkeeper gloves, even a Football, all sporting the "Palidas" logo combined with a neon-edition of the Football clubs classic designs. Official Juventus stores even offered printed jerseys, and naturally the Number 7 was the most coveted: Cristiano Ronaldo, Juventus Turin, Adidas, Palace. The holy grail for a streetwear-football fanatic.
The collaboration once again showed Palace's mission to embark beyond skateboarding, to find its place as a multi-domain athletic brand, but also to show a humorous and playful side of athletic apparel. And they certainly succeeded.
Conclusion
Palace is skateboarding, that's for sure. But the brand emphasizes growth into untouched territory, setting its marker in unprecedented domains. Disrupting motorsport, confusing cyclists, dressing Cristiano Ronaldo. Palace is more than just a small, skate-focused brand from London, it influences the athletic world, it shows that sport and fashion can be combined, that athletes can look cool and still be taken seriously. 
by Freddy Schwoerer of Drip Drops
---
---
← Older Post Newer Post →
---