Yeezy Slide – Hands On Review!
• Freddy Schwoerer
Game-Changing Shoe!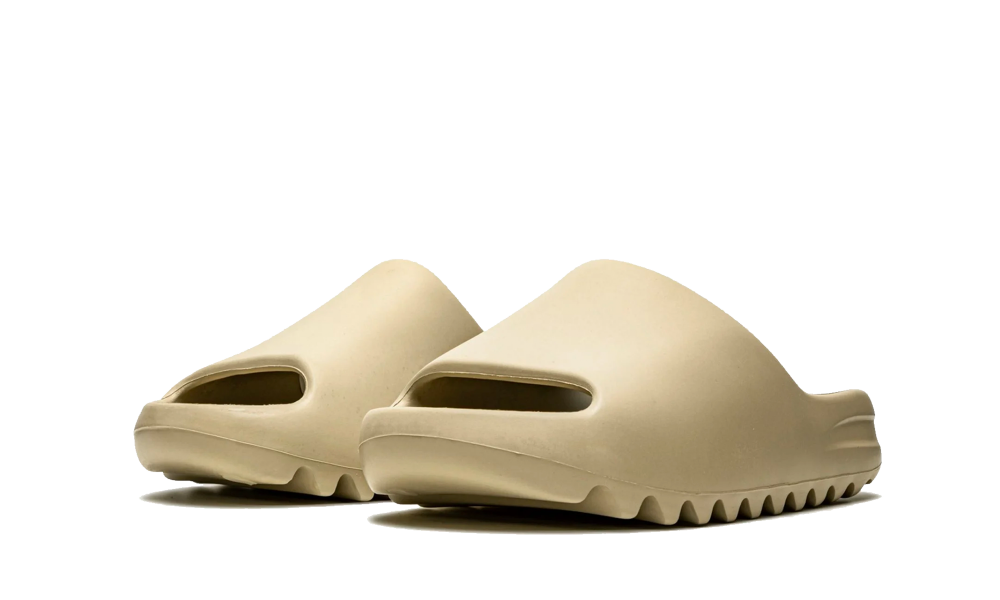 History
Sneakerheads in Europe have received their third attempt to finally cop the highly coveted Yeezy Slide. Originally teased by Kim Kardashian two years ago, the slide released multiple times on adidas.com and yeezysupply.com. Since then, the slide has seen incredible waves of hype and value-increase, thanks to its incredibly minimalistic design. Additionally, the move towards home-office and substantially more time spent indoors due to the pandemic response has shifted the focus of sneakerheads towards sneakers compatible with this shift.
Nike's Response
Nike has recently released its second version of the Offline mule, the brands response to the successful Yeezy Slides. While the "Offline" is arguably a more comfortable and qualitatively better product, its high retail price of 119€ has kept the mule below its potential of hype and status. Meanwhile, the Yeezy Slide retails for around 60€, half the price of its competitor's version, making it much more attractive in a financial sense.
...
The Design
Not only financially though: The Slide is constructed from a single piece of foam, that was designed to provide ultimate snug and comfort for the wearer. This prevents varying materials, such as cushioning or soft uppers, but enables cheaper production and results in the characteristic look the Slide is known for.
The Yeezy Slide received heavy criticism and even ridicule at first, being mocked to belong to a Prison-outfit. However, like every design that Kanye West rolls out, sneakerheads do become desensitized to the innovative looks and end up convincing themselves that the shoe is not so bad after all.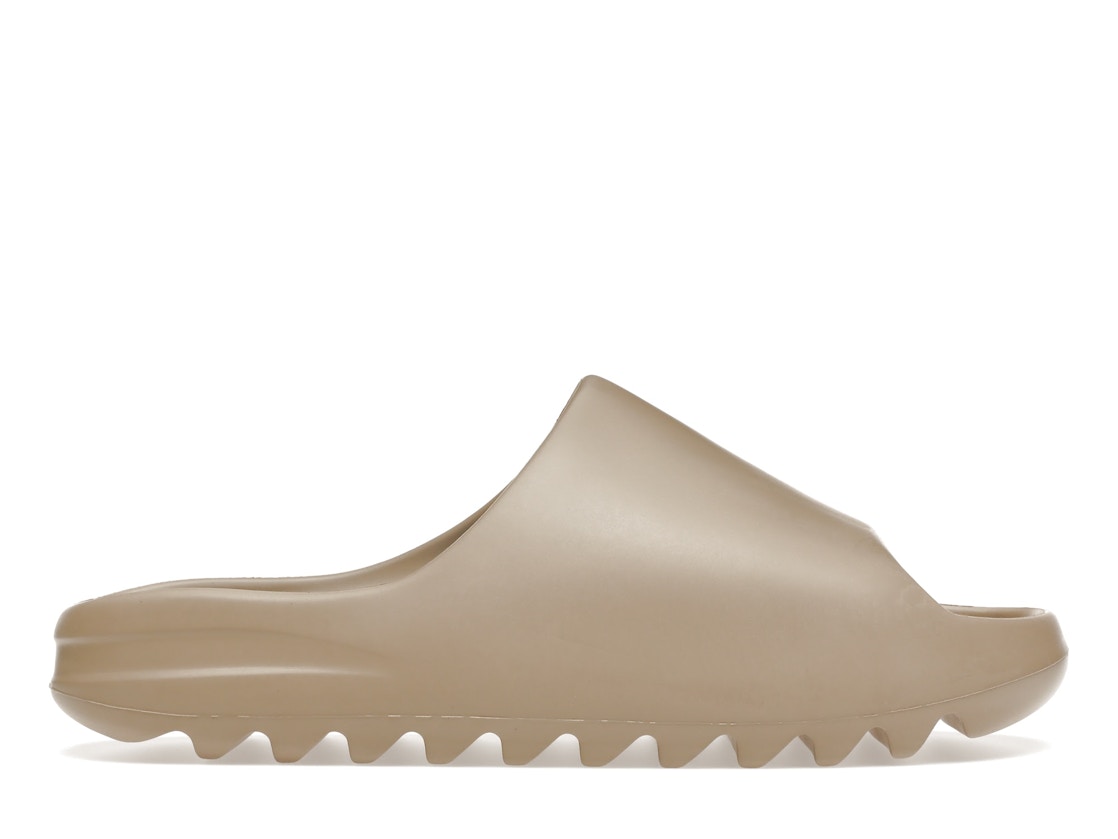 This hype has actually caused the Yeezy Slide to sell at higher prices than the Nike Offline due to limited availability, high demand and more and more sneakerheads realizing that they will have to spend a lot more time indoors. So why not get a hyped, comfortable, minimalistic, and futuristic slide while you're at it?
The Test
But how comfortable is the Slide really?
We at Drip Drops want to provide you with the best service to get the perfect sneaker for you. Therefore, after some wear-testing and outfit-matching procedures, we can provide you with an honest, personal review of the Adidas Yeezy Slide.
To give you a better overview, we segregate the review into three distinct categories: comfort, quality, aesthetic. These factors combined will serve to answer the question: "Worth the hype?"
1. Comfort – 4.5/5
This one might be the most challenging. First and foremost, go up one full size. Especially for those with wide feet, the slide fits very snug and tight around the mid-foot, which can cause some comfort-related issues. However, this is quickly and easily solved by merely going a size up.
Second, the single-piece construction prevents any adjustable features on the slide. Unlike the iconic Crocs-straps, or the complex lace system on the Nike Offline, the Yeezy Slide does not allow any form of modification to fit your feet. While this sounds like a huge caveat, it isn't, since the material and overall design of the Slide adapts to most foot-shapes and will still provide the comfort it promises.
Lastly, and perhaps most importantly, the sole. If you're going to be walking around in your home a lot, a durable and cushioning, yet sturdy sole will keep you going for long without hurting your feet. And this is where the Yeezy Slide beats all candidates. The EVA foam guarantees incredible cushioning, but not like Adidas Boost, which tends to become too responsive after a long wear. On the contrary, the Yeezy Slide's sole might feel a little hard at first, but this is a good sign. Even after a 12-hour wear time, there are no comfort-issues resulting from the sole!
Rating: 4.5/5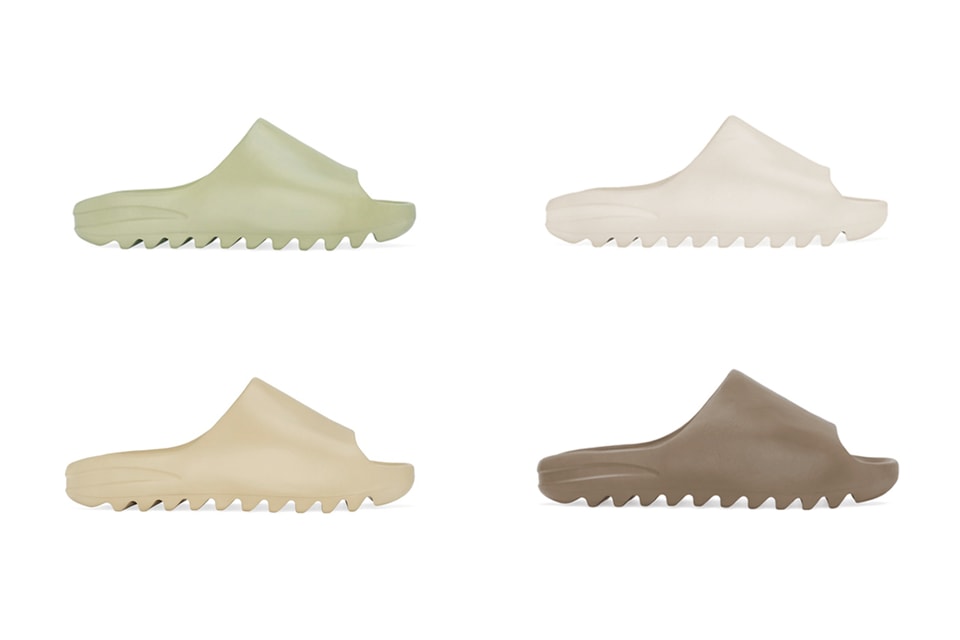 2. Quality: 4.5/5
Adidas is from Germany. Do I need to add anything?
Just kidding, but Adidas definitely guarantees levels of quality that Nike cannot keep up with. Especially for the low retail, you won't find anything that can compete quality-wise. The EVA material lasts literally forever and remains sturdy throughout. Further, omitting stitching and multiple materials avoids any wear-and-tear, so it's surely a long-term investment. Quality is important, since the Yeezy Slide might become your most worn pair of shoes, thanks to its multipurpose potential.
Rating: 4.5/5 
3. Aesthetic: 4/5
This one is subjective. First leaks of the Slide surely put off most people or left them wondering what Kanye's idea was. However, along with Ye's plans of building a futuristic and sustainable "City of the Future" and his love for artist James Turrell comes a vision for the future. Minimalistic, easy production, pragmatic, aesthetic – remind you of anything? Maybe the Yeezy Slides?
Kanye West and James Turrell Artwork
Nike has been innovative in terms of design, but right now Adidas and Yeezy are killing it. The shift away from conventional and conservative silhouettes to testing the limits of what sneakers are capable of has resonated with shoe-fanatics and will give the German sportswear brand a large push in the future.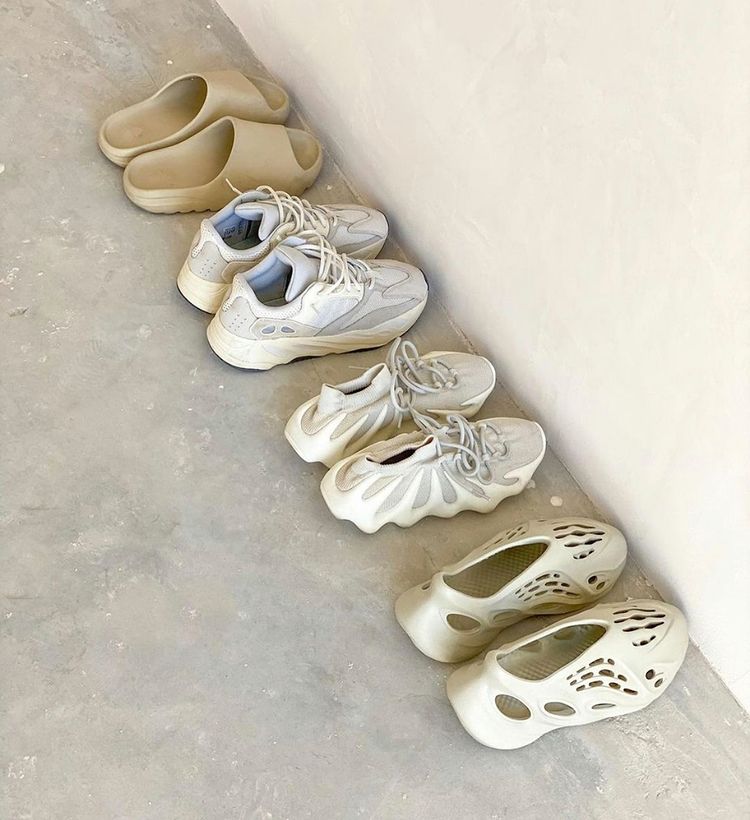 Examples of Yeezy's Futuristic Line-Up
For me personally, these are a 10/10 in terms of design, but aesthetic perception differs from eye to eye. Fans of colour might not appreciate the monotonous palette that Ye has used so far – but can be hopeful of an Green and a Blue pair dropping within the next months!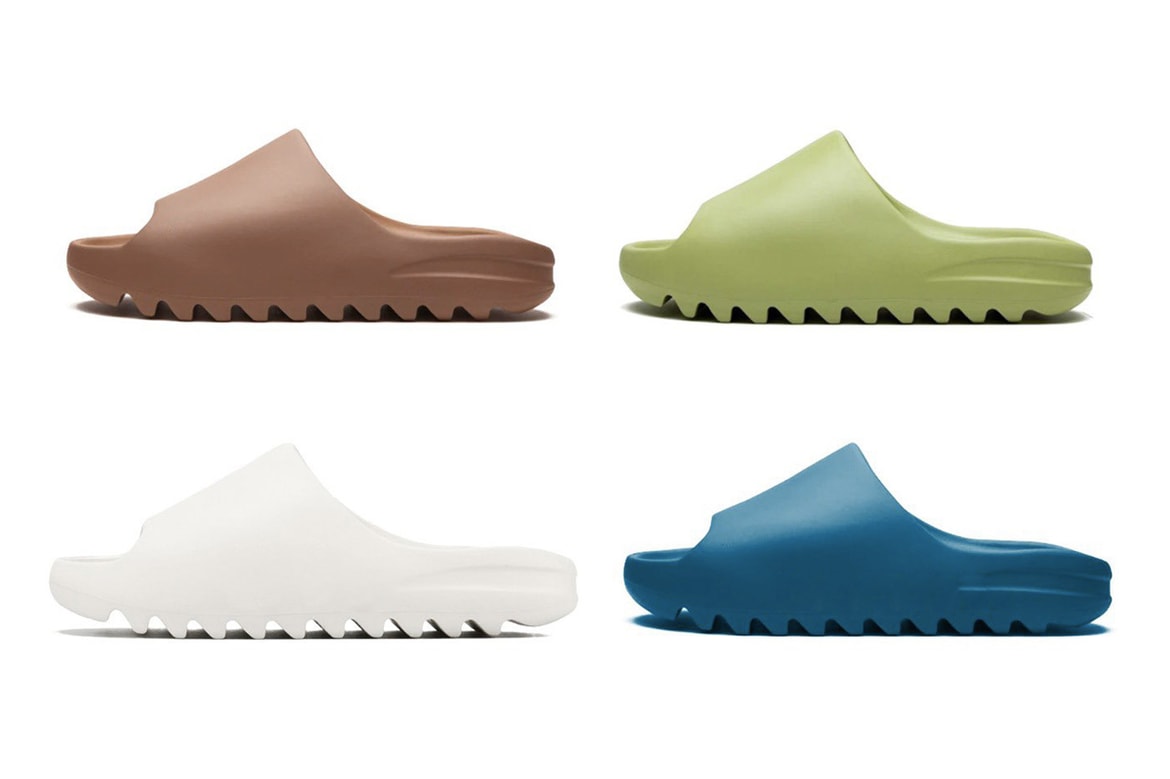 Yeezy Slide Summer Line-Up
Rating: 4/5 (to incorporate the colour-fans' frustration)
Conclusion:
13/15 points! Definitely worth the hype, definitely worth the price!
Slide through 2021 with the Adidas Yeezy Slide!
BUY THE YEEZY SLIDE PURE AND RESIN HERE
by Freddy Schwoerer of Drip Drops
---
---
← Older Post Newer Post →
---